10 essential items for the smart traveler
It has happened to all of us to return from a trip with half of our clothes unused, or to realize halfway through the trip that the suitcase weighs more than necessary. While not all of us have the organization gene or are the kings of convenience, we can all learn to travel light, like true professionals, and even with only carry-on luggage.
thinking of your nextweekend getaway or longer trip, KAYAKINGI have gathered for you these 10 tips of essential items to travel in the most intelligent and practical way.
plastic bags
Basic of basics. Not all airports have strict rules, but in most they ask you to carry containers containing liquids in a hermetically sealed plastic bag in your hand luggage. Remember that the containers must not exceed 100 ml each, so think about bringing the minimum and essential that you might not find in the accommodation.
A lightweight, multi-purpose jacket
Some well-known brands offer jackets designed for travelers, with layers for different uses that you can separate according to your needs. You will find them at all prices and they can include a fleece lining that insulates you from the cold and an outer layer with a certain level of impermeability or that can protect you from the wind.
A reusable cloth bag that takes up little space
Carry an extra cloth bag in your backpack to separate dirty clothes or purchases and take care of the environment while traveling. There are some silk ones that take up almost no space, weigh nothing, and can save you from many inconveniences.
A pair of comfortable and versatile shoes
It might seem obvious to you, but not all of us think of wearing a pair of comfortable shoes with which you can walk all day and go out to dinner at night without looking bad. Sometimes it pays to spend a little more and find a pair that you really like and can wear for multiple occasions.
a small flashlight
You never know where you are going to end up in an unknown city. A small flashlight on your keychain, headband or any other light that doesn't take up much space can save you from falling into a pothole on a dark and unfamiliar street, or help you get back to your hotel after an evening stroll along a lonely beach.

a waterproof bag
An unexpected rain can ruin your documents or electronic items and give you a hard time. To avoid this, invest in a waterproof bag that you can take with you on all trips. They come in all sizes and for all budgets and, in any case, they can even be used to keep some items separate inside the suitcase.
Clothes on the brink of retirement
The last trip has arrived for that old pair of socks that has been your favorite for longer than you would like to admit, and that you have not dared to throw away. Take them for their last walk and give them a dignified farewell in distant lands, so you can travel lighter on the way back or make room for souvenirs.
A microfiber towel
A good microfiber towel can occupy the same space as a t-shirt in your suitcase, and it can be very practical if the ones offered by the hotel are not enough for you, for excursions, or even to sit on when you have a picnic in the park.
A basic first aid kit and wet wipes
A good traveler always carries a small first-aid kit with what is necessary to cope with anything from a headache to an injury. It is also important to include wet wipes, because you have to be open to street foods from other cultures, but prepared for any unforeseen event.
rubber sandals
Rubber sandals are more useful than you think on trips. You can use them to go to the beach, to be fresh on the street, not to walk barefoot in the hotel or even to take a shower, if you are picky or stay in a hostel.
And do not forget…
Restrictions on items you can bring on board vary depending on the airline or country you're traveling from. Take into account the measurements of your suitcase and take advantage if you can carry a second handbag to store the most important things, such as documents and your laptop or camera.
When packing, use the "onion plan" and take layers of clothing that you can combine or add if the temperature changes. Always check the weather forecast before leaving on a trip and, most importantly, do not forget to plan your entire itinerary with our toolthrips, which you can take with you wherever you want if you download  theappsfree fromKAYAKING.
The winter season has ended, we look forward to seeing you next year!
This holiday season, our three beautiful gardens sparkle with thousands of intricately crafted glittering Christmas lights known as Naumkeag winter lights. Invite the whole family for a magical, fun and safe outdoor experience with food, snacks and more.
November 25, 2022 – January 7, 2023
Wednesday – Sunday
Closed December 24th and 25th.
Prices
Wednesday to Thursday adults: $22/17, children (3-13 years old) $10/5.
Friday-Sunday – Adults: $27/22, Children (3-13) $10/5.
Children under 2 FREE OF CHARGE
FAQs About Naumkeag Winter Lights

Ticket Sales and Entrance at Naumkeag Winter Lights
How many tickets can I buy at once?
Individual participants may purchase up to 2 tickets per date at the participant's fare; Family members and above can purchase up to 6 tickets per date at the membership rate.
Do children under 2 need a ticket?
No, children under 2 years old are free. The child ticket is valid for children from 3 to 13 years old.
I bought tickets but didn't receive (or lost) my confirmation email!
Guests who have purchased tickets can find their order and resubmit tickets at ticket.thetrustees.org/orders.
What happens if I arrive earlier or later than the check-in time?
To ensure a positive guest experience, we ask that you arrive at your scheduled time. For example, guests with tickets for 17:00. must arrive between 5:00 pm and 5:15 pm.
Can I change the date or time?
We are unable to accept date or time changes at this time. Tickets are non-refundable and non-exchangeable between dates.
What is the weather policy?
Unsafe or extreme weather will cancel this event. If the event is canceled due to weather conditions, guests will be notified by email at 12:00. m. of the day; we will offer a full refund or an alternative return date to the show.
Are masks required at Naumkeag Winter Lights?
Winterlights is outdoor recreation; Masks are not required for guests at Winterlights.
Services and Availability at Naumkeag Winter Lights
Where is the parking for this event?
Bradley:
Parking will be located at The Bradley Estate at 2468 Washington St, Canton MA.
Naumkeag:
Parking will be located in downtown Stockbridge, in designated parking spaces on either side of City Hall at 50 Main Street, Stockbridge MA. If this car park is full, feel free to use any car park on Main Street or Elm Street in Stockbridge. There will be no on-site parking. Pickup and check-in will be at the Stockbridge information booth between 37-39 Main Street.
Stevens Coolidge:
Parking will be on site at 153 Chickering Road, North Andover MA. Available parking is located in front of the lot, closest to the tourist center.
Is the site wheelchair or pram accessible?
Unfortunately, due to uneven terrain and stairs, access to Winterlights is restricted.
How long does it take to walk to Naumkeag Winter Lights?
On average, expect to spend about an hour walking around the area.
Are dogs allowed at Winterlights Hotel?
No, in order to protect our territory, dogs are not allowed in Winterlights.
Will food and drinks be available for purchase?
Yes, discounts (snacks, hot drinks) will be sold on site.
Will there be toilets?
Yes, bathrooms will be available to guests in all properties.
What should I wear at Naumkeag Winter Lights?
The event will take place outdoors. Be prepared to walk dirt roads over uneven terrain through forests and orchards. Trails can be muddy or icy, winter shoes are recommended. Please dress appropriately for the weather on this day.
Lake Cumberland State Park
Lake Cumberland: A history of why and how it was created
The History of Lake Cumberland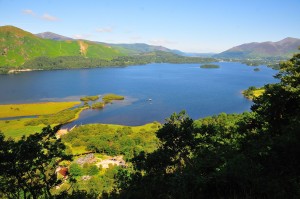 Lake Cumberland State Resort Park outside of Jamestown, Kentucky is one of the region's most poplar recreational areas. A water enthusiasts paradise and a house boaters dream, Lake Cumberland has seen tremendous improvements of the past few decades that make it an ideal location for a thrilling vacation amid nature. However, the need for hydroelectric power and a reservoir for flood control fueled interest in creating the lake as opposed to establishing a recreational site.
The impoundment of the Cumberland River in 1952 saw the creation of Wolf Creek Dam, the 25th largest of its kind in the US. Unfortunately, the dam has seen quite a few problems over the years including cracks, leaks, and breaches. Although the dam has prevented millions of dollars in flood damage since its creation, the costs are seemingly absorbed in the continual repairs required by the dam.
The dam was constructed just one year after the Secretary of the Army set aside a few thousand acres of this land for the development of the park. Originally named Lure Lodge due to the amazing fishing the lake offered, the name was changed to Pumpkin Creek Lodge in 1962 after the new lodge facilities created there. By this era, rustic vacation cottages, campground facilities, and other amenities were in place to welcome the first official park visitors to Lake Cumberland that same year.
Word of Lake Cumberland's activities and beautiful scenery had spread, and more visitors were coming to check out Kentucky's State Parks. Developers decided to add more cottages, tennis courts, a golf course, grocery stores, a playground, and other community services to draw in more visitors. Indoor recreations were even taken into consideration by the late 1980s with the addition of posh amenities to the lodge like Jacuzzis, game rooms, and a fitness center.
Today, houseboating is one of the most popular recreational activities on Lake Cumberland, and it's common for more than 1500 houseboats to be on the lake during the high season. Whether people go to Lake Cumberland for a little rest and relaxation or for an exhilarating outdoor experience, the possibilities are endless.
Activities and Attractions at Lake Cumberland State Resort Park
Houseboat rentals are very popular, and this option takes care of visitor's lodging and gives them a way to get around the lake to see the top sights; however, renting a kayak, jet ski, or small speed boat gives one even more freedom to move about. The Jamestown Marina & Resort is the place to head for all boating needs and wants on the lake.
Just about any season is a great one to visit Lake Cumberland, but the winters can be chilly and snowy, so much of the lake action concludes in October. Many come here to relish in the summer sun, while others prefer heading here in the fall when the leaves make their iconic autumn transition.
Birding enthusiasts enjoy the vast array of viewing and spotting opportunities around Lake Cumberland. The red-tailed hawk, the American Kestrel, and several owls species including the great horned barred, and screech owls frequent here. Fall and winter's chillier months bring out the wood ducks, whip-poor-wills, mallards, and the green and great blue herons.
Hiking along the beautiful shoreline or up into the bluffs are popular visitor activities on land. Old Hickory and oak forests overlook the lake, and there are two moderate hiking trails that are recommended for travelers. Baugh Branch Trail is about a mile and a half linear trail with easy, level terrain. The reward for making the trek is fantastic vistas overlooking the Baugh's Branch. Lake Bluff Trail is about a four-mile hike that begins at the Park Activities Center. This one's a bit tougher with steeper slopes and rougher grades, but it's a worthwhile hiking trail at Lake Cumberland.
Horseback riding is available around the lake from Memorial Day through Labor Day, and the golf course is open year round. Tee times may be scarce in the summer, so book early. Disc golf is a popular sport on Lake Cumberland, and the public course is open year round. Fishing, of course, is exciting on Lake Cumberland. Largemouth and smallmouth bass are highly sought after, but many come seeking the walleye and occasional sturgeon. Recent lake level reductions have the fishing rumored to be better than ever at Lake Cumberland
Lodging at Lake Cumberland
Certainly, visitors will want to give that houseboat rental on Lake Cumberland serious consideration if visiting from April to October. The outfitters at Jamestown Houseboat Rentals offer guidance and lessons so comprehensive, that even a first-time captain leaves the shoreline with their houseboat rental wholly confident.
Those looking for Jamestown resort lodging near Lake Cumberland on land will have several nice options. The all-suite accommodations at Jamestown Lodge Suites are complemented with onsite perks and affordable rates. Enjoy the comfort a private cottage at Lake Cumberland at the Jamestown Log Cabins, or take respite in a private Cape Cod style condo at the Chalet Condominiums.
How to choose the perfect resort for your upcoming holiday?
If you are interested to enjoy the thrill of travelling without any stress of planning then there is no need to worry because considering the resorts as the accommodation option is the best decision you can make in this case. Whenever you have to choose any kind of top Holiday resort in India then moving with proper planning right from the very beginning is definitely a great idea. Choose from accommodation options like Sea breeze Beach resort because it offers the best amenities. Following are some of the very basic tips and tricks to be followed at the time of choosing the best possible resort for the upcoming holiday:
Finalising the destination: The entire planning process will be beginning if individuals will be finalising the destination where they have to go. Choosing the perfect resort will be starting with selecting the dream destination so that people can choose the best options very easily and its proper compatibility to the entire process. Finalising the options in the form of coastal for the tropical vibes, adventurous moments day or the beach place is very much important for people so that everyone will be able to choose the best options accordingly. Depending on the resort chains in this particular case is a great idea to enjoy exquisite benefits without any kind of problem and ultimately have a great travelling experience. People can even consider Beach resorts if they are planning out any kind of honeymoon trip and can go with the option of considering family-friendly resorts if the trip is with family. So, checking out the destination and other associated technicalities in this case is the key to success.
Checking out for facilities: Facilities are very much important to enjoy a smooth stay on the trip. So, people always need to ensure that the rooms are equipped with world-class facilities for rest, comfort and relaxation. After all, this will be the home far away from the home which is the main reason that people need to have a good hold over different kinds of facilities in the whole process. One should always go for that particular resort which provides different kinds of facilities in the form of a spa, game room, swimming pool and other associated things so that people from all age groups can easily enjoy themselves and can get re-energised without any problem. The best part about the resort holiday is that there will be something for everyone to enjoy without any kind of doubt.
Considering the activities: The majority of the resorts available in the industry also help in providing people with easy access to multiple activities in the industry and the majority of them will be in-house activities. So, the convenient signup process and other associated things are very much important to be taken into consideration when choosing the best options for accommodations like resorts. If individuals are interested to go in a thrilling group activity, then their preferences will be different in comparison to a well-planned romantic candlelight dinner by the sea. So, having a clear idea about the needs and requirements, in this case, is definitely important so that people will be able to choose the best resorts as per the specific activities which people are interested to enjoy. In this case, everyone will be able to enjoy a wide portfolio of amazing activities and the best experience for people from all age groups.
Planning by budget: Another very significant factor to be taken into consideration in the whole process is to have a clear idea about the budget. One of the greatest possible things about planning out any kind of holiday at the resort is that it will be helpful in providing people with a world-class experience of the luxury hotel in proper combination with the homely atmosphere. So, considering the element of affordability in this particular case is definitely important for people to avoid any kind of problem. Consideration of the budget-friendly resort in the industry is a great idea so that everyone will be able to enjoy a lot in addition to the affordability element provided by the accommodation option.
Deciding the timing: To experience the best in any kind of destination, people also need to have a clear idea about the timing and the best season to visit it. This particular concept has to be paid attention to in the whole process so that everyone will be at the forefront in terms of dealing with things and for that one will be able to narrow down the list without any kind of problem. People always need to make sure that if they are planning to visit the coastal area then planning out the trip in cool months is a great idea in comparison to summer. On the other hand, if individuals are interested to plan trips during summer then visiting the chilly Mountain breeze areas is a great idea. In addition to this having a clear idea about the monsoon Escape is also equally important so that people can have the best experience without any kind of doubt.
Grabbing the best deals: Whether it is the high season or the low one, people need to have a good understanding of the resorts across the country in terms of offers and deals provided by them. Considering things to the fullest possible advantage is very much important for people so that everyone can grab the best deals and offers prevailing in the industry. In addition to this planning out for different kinds of membership of the resorts is also a great idea so that everything will be carried out as per the needs and requirements without any problem.
In addition to the above-mentioned points considering the transportation facilities is also equally important so that one can go for Considering the accommodation options like Sea breeze Beach resort without any kind of hassle. Such aspects will be definitely helpful in providing people with the most luxurious and comfortable stay on the trip.