A Trip to the Canary Islands
What to see and do on the islands of eternal spring in the Atlantic
Each of the Canary Islands offers a unique experience. In a single travel, you can visit either one of the islands or all of them. They're don't offer only excellent environment if you want to relax by the sea, but are also great for exploring with their volcanoes, charming villages and the most unusual contrasts. You can learn more about the archipelago in this article that's full of travel tips.
The Canary Islands are comprised of eight large islands: Tenerife, Fuerteventura, Gran Canaria, Lanzarote, La Palma, Gomera, Hierro and Graciosa, and a bunch of small islands and reefs. They're part of the Spanish territory despite their proximity to the African continent. You can travel by ferry, ship or airplane from island to island.
Travel tips for Tenerife
The largest of the islands and also the most populous is Tenerife. It has two airports, one in the north and one in the south. Tourism is well-developed, which means you won't be lacking anything during your trip. You should start exploring the island's capital, Santa Cruz, a city that boasts a concert hall inspired by the Sydney Opera House. One of the world's largest carnival festivals takes place there in February. The main unwinds during the night when people dance until morning wearing costumes. The island's main historical sights can be found in San Cristóbal de la Laguna, which will delight you with its splendid beaches and a minster. You can just feel the charm of bygone days while taking a walk in the city. It's time for some relaxation, so head to the Loro Parque on the northern coast, one of the best animal parks in the world. There you'll find penguins, dolphins, a sea lion show and much more. Keep an eye out for the world's largest collection of parrots numbering around 400. You can buy the ticket online and save yourself standing in the queue. Next in line is a trip to the mountains, offering travellers a completely new world – the Teide National Park. You can climb almost to the top of Spain's highest mountain, Teide volcano (3,718m), with a cable car and enjoy the panoramic view over the kingdom of craters and lava.
Climb down to the valley all the way to the coastal town of Candelaria, known for its church with the Black Madonna, the guardian of all the islands. Nearby, in Güímar, real pyramids can be found that were made out of lava. Go and explore their secrets. Head to the southern coast on a Viking ship that will take you among dolphins and whales, as well as the mysteries of famous sailors. Vital for tourism, Playa de las Americas is part of an important tourist resort in the southern part of the island. A point of interest for travellers are the Teno mountains with the Masca village, a place where time seems to have stopped. What else can you do in Tenerife? I recommend going on a ten-hour tour of the neighbouring island of La Gomera by boat. Once there, you can explore the green island that's been lost in time. Head to the island's capital, San Sebastián, and visit the church where Christopher Columbus sent up a prayer before he embarked on his voyage. Afterwards, you should take a trip to the Garajonay National Park. It prides itself on its unique vegetation comprised by laurel trees and tree heaths. Don't forget to visit the picturesque and diverse valley full of gorges and waterfalls, the Valle Gran Rey. If you're itching for a walk, then the banana plantations in the Hermigua valley, charming villages and the Roque Cano rock outcrop are a perfect choice. You'll be constantly surrounded by the traditional whistling language of the locals. To top it all off, head to the volcanic beaches for a swim.
What can you see in Gran Canaria, Fuerteventura and Lanzarote?
On the other side of Tenerife, you'll find Gran Canaria, a diverse island offering everything from verdant meadows to sand dunes. The island's capital is Las Palmas and its Museo Canario is worth visiting. Knock yourself out while exploring the labyrinths of Vegueta, a neighbourhood full of historical colonial houses and streets, where the foundations of the city's heart were first laid. I recommend staying at the Lua Lua Hostel, a bright and cosy house in the city centre.
A trip to Teror and Vega de San Mateo is a must for travellers who love villages with a soul. It's especially worth visiting the lively Sunday markets. Teror is the island's major place of pilgrimage while Vega de San Mateo is its agricultural centre. The result are two markets packed with souvenirs, homemade products, delicious fruit, vegetables, nuts, and spices. The road leading outside the capital is enormously picturesque, as it winds through the island's most important agricultural areas. The southern part is different. You can ride camels there and cross the sand dunes on your way to Maspalomas.
A bit west are Fuerteventura in Lanzarote, two islands that are, despite their proximity, quite distinct from one another. Volcanic eruptions in the 18th century have given Lanzarote its distinct and contrasting appearance. The volcanic period also gave rise to the area that is now home to the rich Timanfaya National Park. You can learn more about the park by taking a half-day tour that includes camels, wine, geothermal energy and volcanic sand. The island's sights also include villages dotted with white houses with blue or green windows. Steep cliffs and underwater lava tubes in the northern part of the island invite you to explore them. Take a ferry to discover the neighbouring island, La Graciosa. You'll be awaited by crystal-clear water teeming with marine life and full of sandy beaches. You can go hiking around the island and the only permanent settlement, the village of Caleta del Sebo.
Fuerteventura is a desert island and a true paradise for travellers where you can take a rest and relax. The island's name translates to "strong wind", and the island truly is a paradise for all those who love water sports. The island is known for its beautiful beaches, but there are also other natural landmarks, such as sand dunes in the Corralejo National Park. All those who like to enjoy good food can visit the artsy villages of Lajares with its tapas and Betancuria with its goat cheese. The town of Oliva hides its own aloe vera factory. Fifteen minutes away with a ferry is the Isla de Lobos, an island with numerous experiences for travellers anxious to explore. Twelve eight-kilometre walking trails will take you on a journey to the centre of the island. The trails wend their way past lonely lighthouses and wetlands all the way to volcanic hills. You might also encounter one of the numerous bird species that live there.
Undiscovered pearls of the Canary Islands
The western part of the Canary Islands holds two other large islands – La Palma and El Hierro. They're not as frequented by tourists, so they're particularly interesting for travellers who like to get away from other tourists. La Palma is also known as the beautiful island as it's definitely impressive with its dramatic landscapes, volcanoes, deep forests, black sandy beaches and the colonial capital of Santa Cruz de La Palma. The capital was once one of Spain's most important port cities and it has still retained some of the characteristics from bygone days. A volcano erupted near the region of Fuencaliente 40 years ago, leaving black soil, thermal springs and salt pans. El Hierro, the smaller of the two islands featured in the Hierro TV series, is an even better choice if you're looking for a quiet nature getaway. More than half of the island was declared a natural park as the island's nature is as diverse as it gets. You can spot streams of solidified lava and steep cliff on the coast, making it hard to reach the ocean. Inland is full of Canary Island pines, laurel trees, eucalyptus and chestnut trees.
Enjoy your trip across the Canary Islands and don't forget to send postcards with MyPostcard. All HI members get 25% off. New users can send their first postcard for free with the HIGlobetrotter promo code through the Globetrotter profile. You can read more about it here.
TOP 10 BEST PALACES TO VISIT IN THE WORLD 2023.
If you love traveling and want to have information about the best places in the world, here you can learn all about top 10 world's best places to visit in 2023.
As we begin with the anticipation of what the future holds, with the excitement of runners, food bubbles and restrictions being lifted, optimism returns as we rekindle our love of everything, wanderlust …so yeah, it's time to start. planning your vacation in 2023!
What is this "new look"? Well, I'm glad you chose…
You can be sure to choose a route with confidence when discussing your itinerary, cruise, rail or road train, as destinations take extra care to ensure health and safety during your journey.
With people now facing people looking to travel and connect with nature and the western places in the world that are considered "low health risk", here's a collective look at the best and most beautiful places to visit in the world. They were found. lift up.
Top 10 World's Best Places.
1. Croatia.
This Baltic beauty is as popular as the Greek islands, and Game of Thrones further propelled her fame (think King's Landing and that infamous walk through Dubrovnik's medieval cobbled streets).
Idyllic beaches and beach bars by day, old sights that are part of the observed nightlife, fresh and abundant gastronomy… and the possibility of renting a boat to travel from island to island in the blue coast province of the Adriatic. .. know and perfect Holidays.
Dubrovnik, Split and Hvar were once packed with tourists during the height of summer, this may change in 2023, but keep in mind that less popular (but no less picturesque) stretches of coast like Istria also make the list.
2. Norway.
Scandinavia deals with low risk (Covid) but high risk, with full coverage of exciting experiences and revealing its breathtaking landscapes, enchanting cities and mountains revealed. The gorgeous Northern Lights (electrically charged particles) are a must-see to see the lights dim in the sky above the Arctic Circle.
And while you're there, hop on one of the most incredible train rides in the world, the Flåm Railway, which offers panoramic views of spectacular nature among the nearby fjords.
Experience Scandinavia for the first time on a journey through the owners of the fjords and glaciers Adventure World.
3. Portugal:
One of the best sun and beach destinations in the Mediterranean, dotted with historic cities, gastronomy and omnipresent landscapes. Something for everyone as it becomes an increasingly rewarding wellness destination to relax and unwind with more than one of the world's best surfers.
Kontiki offers new personal hygiene options, i.e. Portugal City and Surf Adventure. A special 2-night stay at Noah's Surf House on a Santa Cruz cruise offers activities like kayaking, skateboarding, and morning yoga at sunrise overlooking the country's picturesque coastline.
4. Vienna on the River:
For those who have already traveled Europe several times and are looking for a different kind of cruise, consider the river: this is a way to appreciate Europe while cruising past castles and picturesque towns on an onboard cruise. 130 people maximum), all while relaxing and drinking vines on the rooftop terrace. Think of a floating 5-star boutique hotel, restaurant, bar and yoga studio singing "WELLNESS na vo".
Waking up to swans outside your window as you wade through the misty waters is pure magic. And there are many people in the world to discover cities and towns. My choice is from Vienna to Prague, cruising the enchanting Rhine and Danube rivers and stopping in the "City of Waltzes" to explore its artistic heritage, imperial palaces and historical treasures.
For your safety, all Uniworld Boutique Collection ships are exposed to purified air and develop odorless, chemical and resistant self-disinfecting infections, ending in germs such as bacteria and viruses, including the coronavirus family.
5. South Africa:
Safari, safari, safari. The feeling of being part of a David Attenborough documentary is quite surreal – six young lions walked alongside my group and then attacked a buffalo right in front of our numb eyes, only for the buffalo to shake off SIX lions and then run, to warn them. pride to stay away, and then headbutted a tree to show his dominance over the lions. Such a "live show" does not happen every day, that's the beauty of the safari – every day and night is different, you can only hope to catch the Big Five (lion, elephant, leopard, buffalo, rhinoceros).
Plus add to that the amazing Lion's Head climb with 360-degree views of Cape Town, various nature walks and of course the wonderful spirit of the people and your holiday is complete.
Lion World Tours, African Travel and Adventure World Travel organize trips throughout Africa to suit your needs, hobbies and different levels of gentle adventure.
And in December 2020, Red Carnation's Xigera Safari Lodge will open in the 15,000-square-kilometre wilderness of Botswana in the heart of the Okavango Delta. This ultra-luxury escape is dedicated to sustainability, with 12 phenomenal socially distancing suites and is powered entirely by solar energy.
Peaceful Harbor offers Wellness in the Wilderness: personalized treatments that soothe the soul, revitalize and nourish the body and mind, using the natural healing powers of jungle peace and tranquility.
6. Egypt and Jordan:
How fascinating it is to travel back in time to the country of the pharaohs, get lost in the Valley of the Kings in Luxor, visit the colossal pyramids and the Great Sphinx in Giza and sail along the mighty Nile River, which has many ancient monuments scattered everywhere. edge – the stories and stories you hear about are enough to call out an explorer in any, let alone ALL the mezze and hummus plates.
    Then in Jordan, also filled with World Heritage Sites and inspiring desert landscapes, Petra was considered a "wonder of the world" with sites nestled in rocky landscapes and an obvious mood that changes with the changing light of sunrise and sunset.
Trafalgar and Insight Vacations offer guided vacations and the opportunity to visit Al Amir Iraqi Women's Cooperative, a community of women looking to empower themselves and advance their professions (statistics show some of the highest female unemployment rates in the Middle East). ): We invite you to visit and join them, learn about their lifestyle and help the #MakeTravelMatter community.
7. South America:
Take a break and be alone with nature and wellness: Andes peaks, Amazon jungle (stay in eco-houses), Patagonian glaciers, Inca ruins (trek to Machu Picchu, one of the seven wonders of the world!), Lima as a world gastronomic destination and relaxation on white sand beaches.
For holidays without a package designed by you, Costsaver will take you through South America; and now Uniworld Boutique River Cruises sails the Amazon and includes Peru to explore Machu Picchu. Experience a modern day boat trip on the Yanayaku Pukata River where you can kayak, canoe and swim in these famous waters and see the pink dolphin.
8. Canada.
Canada is a breath of fresh air for many. It has the main attractions of a thriving city and plenty of activities including hiking, biking, canoeing, camping, skiing, wildlife and more. Lose yourself and discover the bounty of Mother Nature from the Rocky Mountains to the waters of Alaska and tour the national parks, glaciers and historic cities of western Canada. But also keep in mind that the mountains of the Yukon or British Columbia are just as impressive as the Rocky Mountains.
Luxurious gold covers a lot of ground with Majesty of the Rockies.
9. Japan.
A combination of Eastern traditions and Western modernity. Japan is one of the oldest civilizations with a diverse history, majestic temples and boasts 21 UNESCO World Heritage Sites; unspoiled natural landscapes such as Mount Fuji and its forested hills, the opportunity to take a dip in a mineral-rich hot spring bath with onsen heated by geothermal forces, which are said to have "rejuvenating properties"; its freshly sprayed ski fields in winter and cherry blossoms in spring, which peak in April.
Food and entertainment are important to Japanese culture, so be sure to try it while on vacation.
10. Australia and New Zealand.
Yes, I have included two countries in the top 10 list, BUT they have the same qualities, but are completely unique from each other: incredibly diverse nature, extraordinary landscapes and endemic wildlife, and there is also interesting local culture to discover (and both are considered incredibly low-risk countries for Covid).
While Australia is known for its picturesque coastline and white sand, New Zealand is known for its stunning mountains and landscapes.
Imagine diving the Great Barrier Reef (one of the world's seven natural wonders and the largest structure built by living organisms), then head north to the Daintree Rainforest for a hike and overnight in a lodge Eco tree, then head to Uluru. – a place so spiritual that it draws you in like a whirlwind, in the most magical way.
New Zealand offers a contrast between its northern and southern islands, with many natural wonders such as the Tasman Glacier made famous in The Lord of the Rings. Take a scenic drive through Fiordland National Park and experience unforgettable Milford Sound.
AAT Kings and Insight Vacations organize getaways and guided vacations in these two destinations.     That's it for the top 10 places in the world to visit in 2023. Admittedly, we could include at least 50 more hotspots from popular destinations to less-frequented roads! There are so many exciting places, cultural events, hikes, wildlife yet to be discovered…and so many other memories waiting to be made!
10 Wonderful Places to Visit in Ohio
If you don't know about Ohio, this is the best article to click. Here you will get all important information about 10 Wonderful Places to Visit in Ohio.
Smack dab in the heart of the Midwest is the state of Ohio. Created in part by natural borders, Ohio is shaped by both Lake Erie and the Ohio River. The state boasts an appealing combination of interesting cities, pristine natural scenery and charming farms.
Whether you're exploring Ohio for a weekend visit or a long vacation, there is lots to see. While major cities like Cleveland, Columbus and Cincinnati are among the wonderful places to visit in Ohio, this guide also suggests some wonderful additions to your Buckeye State itinerary.
Wonderful Places to Visit in Ohio
Let's get started
1. Hocking Hills State Park
One of the most wonderful places to visit in Ohio is Hocking Hills State Park. Within the enormous park, you'll find deep gorges, breathtaking waterfalls and stunning cliffs. There are also lots of caves, many of which have evidence showing that the Adena people lived in the area more than 7,000 years ago.
The most famous of these caves are Old Man's Cave and Ash Cave, both of which can be explored by visitors. Miles and miles of signposted hiking trails beckon, and extraordinarily tall hemlocks create shade for the hot summer afternoons.
2. Cincinnati
On the Ohio River is Cincinnati, a place nicknamed the Queen City. Even Charles Dickens was enamored by Cincinnati, calling it cheerful, thriving and animated. Cincinnati is unique in that it straddles the Mason-Dixon Line. Some residents believe themselves to be firmly situated in the Southern United States, while others feel strongly that this is not the case.
Whatever your view of the city's location, there is no denying the appeal. The skyline is incredible, and you won't want to miss views of buildings like Carew Tower or the Cincinnati Observatory Center. Cincinnati also boasts an amazing parks system, so swing by Sawyer Point to check out live concerts and enjoy the green space that is so popular with locals and visitors alike.
3. Cleveland
Cleveland is yet another city built on the shore of Lake Erie, and it is a major metropolitan hub for the region. It's biggest attraction might be the Rock and Roll Hall of Fame, an incredible modern structure designed by famed architect I.M. Pei, who also designed the iconic glass pyramid in front of the Louvre Museum.
The Rock and Roll Hall of Fame is where you can see the most recent inductees, check out exhibits on Elvis, David Bowie and U2 or learn about the people behind some of the most famous instruments of all time. If you only visit one thing in Cleveland, make sure it is this incredible monument to music.
4. Columbus
The state capital of Ohio is Columbus. This city is a unique destination that brings together a wide range of cultures. Columbus is the intersection of regional areas like the Rust Belt, the Bible Belt the Great Plains and Appalachia, creating a sort of melting pot for its residents. It is also home to Ohio State University, which brings in more young people from all corners of the globe.
A great way to explore the heritage and history of Columbus is by checking out German Village, located just outside the downtown area. In the German Village, you can walk along tree-lined, cobblestone streets, admire restored bungalows and stop in at a local cafe for coffee and fresh pastries.
5. Cuyahoga Valley National Park
The lone national park in the state is the Cuyahoga Valley National Park. Just a short drive outside of Cleveland, the park's main attraction is the beautiful Cuyahoga River. Rolling hills, shaded gorges, sandstone ledges and more than 70 waterfalls can be spotted along almost 200 miles of hiking trails.
If serious hiking isn't your idea of a good time, there's a great alternative that still allows you to see a lot of the landscape. The Cuyahoga Valley Scenic Railroad boasts several stations, and an afternoon aboard the train is a wonderful way to see a lot in a short amount of time.
6. Dayton
If you head to Dayton, aviation is inescapable. This city is steeped in history, most notably because it is where the Wright brothers lived, worked and perfected their first practical airplane. In Downtown Dayton, look up to find the iconic Flyover, a piece of sculpture built right into the architecture that traces the path of that first flight perfected by the Wright brothers.
Whether or not you're an aviation buff, you'll appreciate the Wright Cycle Company Complex. This complex is where the Wright brothers operated their bicycle repair shop, all while air travel was just a concept.
7. Sandusky
Situated between Cleveland and Toledo on the shores of Lake Erie, Sandusky is a city with a lot to be proud of. The best-known attraction in the city is Cedar Point Amusement Park, where you can experience some of the most thrilling and extreme roller coasters and rides in all of the Midwest.
If you would rather enjoy something a little more relaxing, Sandusky is also home to the Cold Creek Trout Camp. From here, you can venture out to where the waters of the Sandusky Bay mingle with the waters of Lake Erie, and there are even incredible views of the rides at Cedar Point.
8. Toledo
On the lakes of Lake Erie is Toledo, a medium-sized city that boasts an enormous port. The Toledo is most wonderful places to Visit in Ohio. The downtown area is a hodgepodge of architecture, and there are a number of historic buildings that have been rescued and repurposed into spaces like artist housing.
This gives the city a unique atmosphere, and it is a hub for arts and culture within the state. The Toledo Museum of Art is one of the biggest attractions in the city, and admission is always free. Walk right from the Museum of Art to the neighborhood known as the Old West End, where you'll find century-old trees and beautiful historic mansions.
9. Holmes County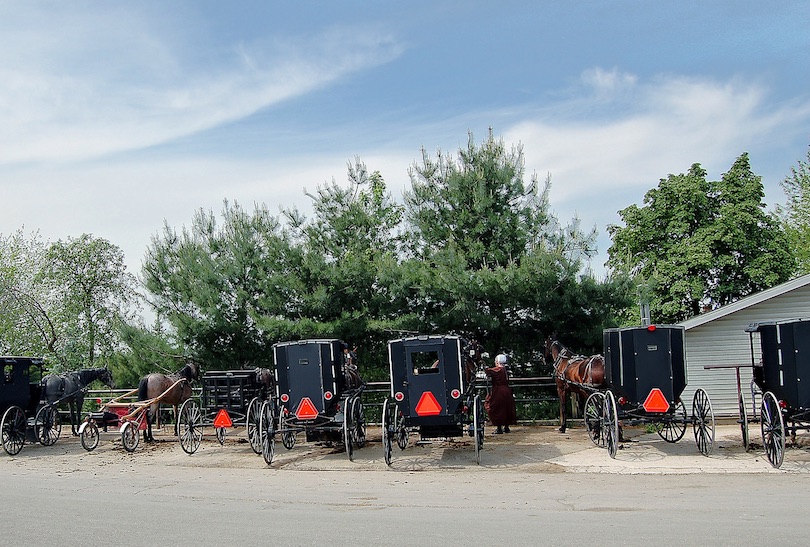 In the eastern part of Ohio is Holmes County, a region filled with beautiful steep hills and narrow green valleys. In addition to being an agricultural hub with stunning scenery, Holmes County is the epicenter of Ohio's Amish Country.
Shopping is often a priority on a visit to Holmes County. However, the incredible handcrafted hardwood carpentry, the sweet homemade jams and the tasty local cheeses aren't the only way to experience Amish culture. Head to the city of Berlin to see the Sistine Chapel of the Amish and Mennonites, which offers a unique cyclorama and guided tours led by Mennonite guides.
10. Lake Erie Islands
Just as the name suggests, Lake Erie Islands are found within the Great Lake itself. Lake Erie Islands are accessible by ferry from several spots along the coast. There are several islands geared to tourists, and there are also a handful that are privately owned or require a membership.
Of the islands open to the public, Kelleys Island is a top pick. Once you arrive, you can head straight to Glacial Grooves State Park, which was created by glaciers moving through the limestone bedrock. Next to the ferry dock, look for signs pointing to Inscription Rock, which is marked by native petroglyphs.
11 Facts About Sable Island That Might Surprise You
If you're from the Seaside, you probably grew up listening to stories about the mysterious, isolated, and wild windswept sandbar known as Sable Island.
Often referred to as the "Graveyard of the Atlantic", Sable Island is an amazing place of strange origins and unspoiled beauty. Located 300 km southeast of Halifax, Nova Scotia, the island has fascinated for centuries and continues to attract explorers, explorers, artists and travelers from all over the world.
You've probably seen photos and heard stories about the island's wild horses, but really, how much do you know about Sable Island? Test your knowledge or get to know the island better with our list of eleven facts about Sable Island that will surprise you!
1. Sable Island is part of Halifax.
Despite being 290 km off the coast of Halifax, Sable Island is part of the Halifax region!
In fact, during the 2017 provincial elections, a polling station for a handful of the island's voters was created in the 27th arrondissement Halifax Citadel – Sable Island.
2. The island is much bigger than you think
Often people ask if it is possible to walk from one end of the thin crescent-shaped island to the other end. And, unfortunately, no. Sable Island is 26 miles long, the equivalent of walking across the sand from downtown Halifax to Peggy's Cove.
3. Island contains over 500 wild horses!
After centuries of harsh winters, the exact origin of the Sable Island horse population is still unknown.
Some believe they are the ancestors of shipwrecked horses, while others claim they were abandoned on the island by Scandinavians, John Cabot, Portuguese explorers or academics.
The most popular and likely explanation is that a Boston merchant, hired to transport the academics during the exile, placed the horses on the island.
4. The horses from Island were almost taken off the island and turned into pet food!
In 1959, the Canadian government decided to recall the horses after a particularly harsh winter, with plans to turn most of them into pet food. Thankfully, thanks to letters from children across the country and around the world to then Prime Minister John Diefenbaker asking them to leave the horses on the island, this never happened.
Diefenbaker made his defense into law with the Canadian Shipping Act forbidding any tampering with or removal of the Sable Island horses from the island.
5 – There is only one tree on Sable Island.
A scrawny pine planted decades ago, barely three feet tall, is a lone sable tree. And if you saw him, you would think that he looks more like a bush than a tree.
The trees cannot survive due to the raging winds on the island and the lack of real soil to take root.
6. The Island is a paradise for bird watchers.
Over 350 bird species have been recorded on the island, and sixteen species are known to nest here.
From terns, gulls, ducks and waders to rarer birds like the Ipswich sparrow and tropical species blown north by violent storms, Sable Island is not just about horses, it's about birds.
7. The island hosts the world's largest breeding colony of gray seals.
Gray seals are a popular sight on the beaches of Sable Island. Harbor seals are also year-round residents, but are not as common as gray seals.
8. Sable Island was home to Canada's first lifesaving station, founded in 1801.
With a nickname like "Cemetery of the Atlantic", this fact shouldn't come as a surprise. Due to rough seas, thick fog, and flooded sandbanks surrounding the island, Sable sank over 350 ships.
Thanks to advances in technology and navigation, shipwrecks are extremely rare on the island today. The last shipwreck was in 1999 from a yacht called Merrimac, and today parts of the wreck can be found on the island's South Beach.
9. Sable Island – Canada's 43rd National Park.
The final law was passed in December 2013 and declared Sable Island a national park. Although closed during the winter months (November to June), in June 2014 the island was opened to the public for the first time.
This was amazing news for all Atlantic Canadians who have dreamed of visiting Sable Island since childhood!
10. Sable Island is moving
Some scientists say the island is gradually moving eastward as it is slowly washed away from the western end while sand accumulates at the eastern end. Constant movement as the center of the island moves east. Others believe that its center is not moving, and the island is shrinking and may eventually disappear!
11. This hot air balloon that you accidentally missed in the clouds … probably ended up on Sable Island.
Everything that goes up must go down.
Have you ever wondered what happens to the balloons that take off into the sky? They often end up on Sable Island, where plastic has become much more common. Debris and discarded fishing gear, as well as remnants of balloons, wash ashore every day.
Sable Island resident and explorer Zoe Lucas collects thousands of balloons every year and traces their origins to balloon advertisements.