Check out these 4 Villas with Perks – Mauritius, Barbados, St Lucia
Many will be eying the world for sun and sand this winter. If that's you and you are ready for long-haul travel, check out these four villas for complete privacy while benefiting from the services and facilities of a luxury resort.
From a clifftop villa in St Lucia to a golfer's paradise in Barbados and a villa spacious enough for an extended family in Mauritius, here are our top picks.
Heritage The Villas, Mauritius
Mauritius is opening up from October 2021 for travel without the need to quarantine on arrival.
So, for a winter sun holiday that offers guaranteed warm weather (30°C), privacy, space to have fun as well as five-star hotel services, Heritage the Villas offers the best of both worlds for a large family or group of friends. 
Located on Domaine de Bel Ombre in southern Mauritius, Heritage The Villas offers two-, three- and four-bedroom villas and have mountain, golf course or sea views and each has a private garden with an expansive terrace and pool, that are perfect for alfresco dining and BBQs.
You can relax on the white sand beaches, swim in the ocean, play a leisurely round of golf at the Heritage Golf Club, chill out at the C Beach Club, enjoy water sports, have a relaxing spa treatment in the adjacent hotel's spa, go for a hike in the Heritage nature reserve, or immerse in the hotel's daily activity programme of classes and activities. There's a kid's club too.
A private chef can be arranged or dine at the Domaine's 12 restaurants at sister properties, Heritage Le Telfair and Heritage Awali where guests receive a 20 per cent discount in select restaurants. From local Mauritian dishes in a fine dining 19th-century chateau to 'toes in the sand dining' at a beachside restaurant, there is a variety of culinary experiences.
A seven-night stay starts from £2,117 in a 2 bedroom villa with private pool and goes up to £4,816 for a 4 bedroom villa with pool. For more information visit: www.heritageresorts.mu
Whitehaven villa, Barbados
With pristine powdery white beaches, year-round sunshine and a welcoming community, Barbados' reputation as an idyllic tropical escape is second to none.
Whitehaven is a newly built three-bedroom villa set within the gated community of Westmoreland Hills on the west coast of Barbados. Positioned on a ridge with stunning panoramic views of the Caribbean Sea, the villa enjoys a tranquil setting, yet is only a five-minute drive to the closest beach in Holetown where there is plenty of shopping, banks and eateries.
Nearby at Westmoreland Hill is a high-tech gym and swimming pool.
The villa has an open plan living space and floor to ceiling sliding doors that lead out to a covered dining and lounging terrace with a swimming pool.
Seven-night stay starts from £2,219, which includes housekeeping. For more information visit www.onecaribbeanestates.com
Cap Maison, St Lucia
Set atop a private ocean-front bluff on the northernmost tip of St Lucia and spread across one acre of private landscaped grounds, Saman House at Cap Maison resort offers unparalleled privacy, personalised concierge service, and a private pool in an idyllic location.
The four-bedroom villa sleeps up to eight people and boasts unobstructed views that overlook Pigeon Island National Park and the neighbouring island of Martinique.
Saman House gives the flexibility of a holiday utilizing all the services of a luxury boutique resort whilst enjoying the privacy of a complete residence for a family.
You can spend your days on the beach, taking part in water-based activities like scuba diving and sailing, going on scenic hikes, cooking lessons, or taking a boat trip along the beautiful coastline.
Each bedroom can be furnished with twin or double beds and feature an en-suite bathroom. The villa comes with a fully equipped kitchen, with private chef options available, as well a dining and living room, private pool and decking area with BBQ.
A seven-night stay starts from £5,582, which includes daily housekeeping, laundry service and a welcome fridge pack. For more information visit www.capmaison.com
Bajan Heights, Barbados
For the ultimate luxury getaway, Bajan Heights at Royal Westmoreland offers the perfect base. The spacious four-bedroom villa is set atop a ridge overlooking the West Coast of the island with tropical views from every vantage point.
The villa features high ceilings and coral stone interiors and a private swimming pool, beautifully landscaped grounds and several dining options including a formal dining area, outdoor veranda, and relaxed sit-up breakfast bar.
With access to Royal Westmoreland's facilities, families can fill their days with endless activities including golf on the award-winning golf course, tennis and even beach sports. The resort also has a children's pool, gym, children's areas and spa facilities.
For those that want to venture out Holetown is a five-minute drive away with an array of restaurants, bars and chic boutiques.
A seven-night stay starts from £7,420, which includes a butler service and housekeeper. For booking details visit www.onecaribbeanestates.com
10 Mysterious Caves In India To Visit Before Death
Caves In India
India is definitely home to some of the amazing historic monuments, popular religious places and mesmerizing landscapes. Along with natural gifts and heritage walks, India is also known for its numerous mysterious caves. Here, the discussion is not only about the famous caves of Ajanta, Ellora and Elephanta. There are a lot more beautiful caves in India that one should definitely explore. Some caves have spectacular sculptures and carvings, while some have gorgeous mounds on them. Most of these caves are the greatest examples of the architectural skills of that era.
Know about the most mysterious and striking caves in India, which you would definitely love to explore.
1. Ajanta Caves, Maharashtra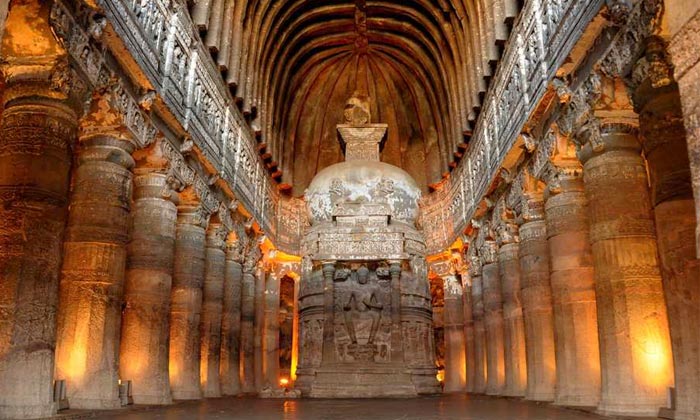 Located close to Jalgaon in Maharashtra, Ajanta Caves in India have 30 rock-cut Buddhist caves dating back to the 2nd century BCE. As per the Archaeological Survey of India, many sculptures and paintings of these caves are finest examples of Indian art and paintings. These are inspired from the religious art of Buddhists. There are depictions of Jataka Tales in these caves which will take you back in your childhood. Along with Ellora caves; it turns into the major tourist attractions of Maharashtra.
2. Borra Caves, Andhra Pradesh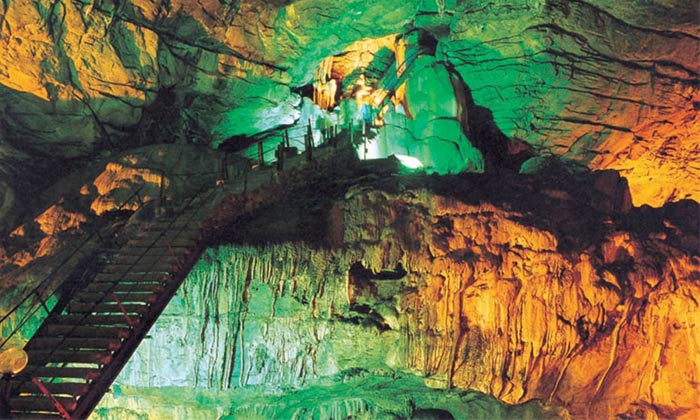 Situated in the Vishakhapatnam district of Andhra Pradesh, Borra Caves in India is one of the largest in India. Located at an altitude of 705 meters, these caves showcase striking variety of speleothems in different shapes. The Borra Cave is 80 meters deep, which is supposed to be on one of the deepest caves. Borra Caves has a Shiva lingam and some interesting myths are attached to it. Due to being located in Araku Valley of Ananthagiri hills, the caves enjoy magnificent views.
3. Bhimbetka Caves & Rock Shelters, Madhya Pradesh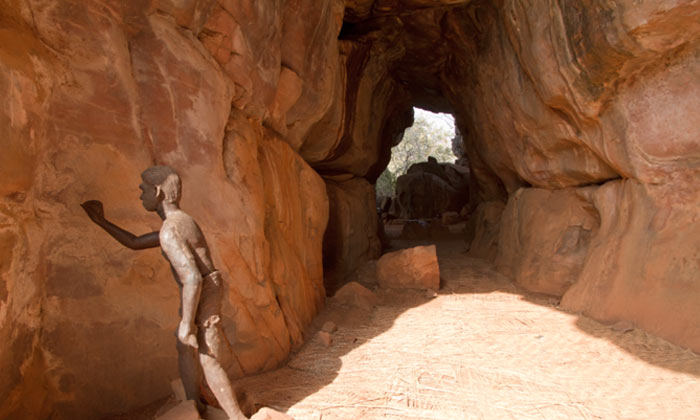 It is a UNESCO World Heritage Site demonstrating one of the prehistoric traces of human life in Indian sub continent. This used to the foundation of the South Asian Stone Age. Situated inside the Ratapani Wildlife Sanctuary of Madhya Pradesh, Bhimbetka Rock Shelters cave is one among the most amazing caves displaying the early traces of dance. A team of archaeologists have discovered many more prehistoric rock shelters in this cave. The main attraction of this cave is the rock paintings and sculptures that are around 30,000 years old. Colors of the most of these paintings have faded as natural colors have been used to paint. It is really interesting to visit the caves in India.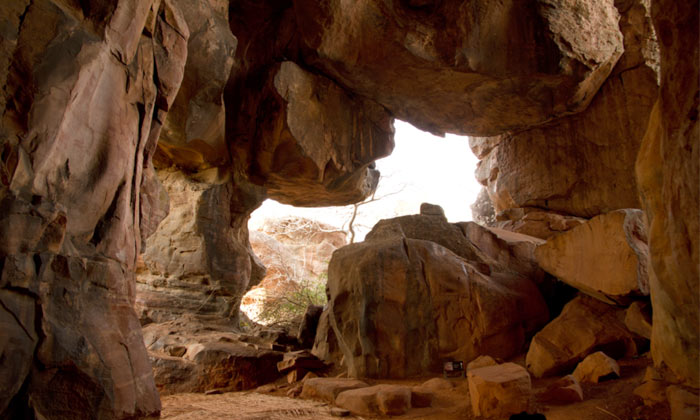 4. Amarnath Cave, Baltal, Jammu and Kashmir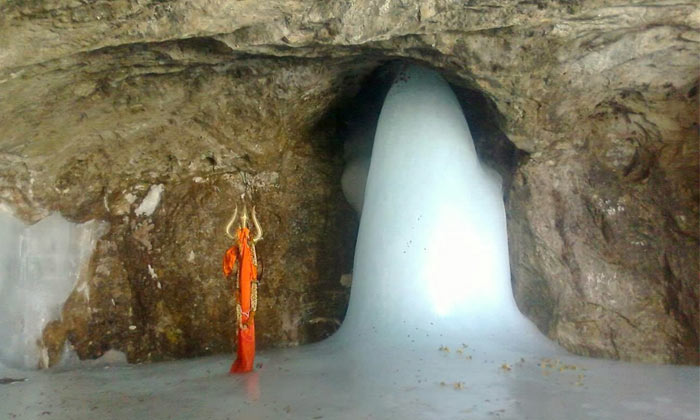 Amarnath Cave is one of the holiest places for Hindus, which is among the biggest tourist attractions of India. Situated in Jammu and Kashmir in Baltal, the cave is situated at an altitude of 3,888 meters and has a great significance in Hinduism. There is an ice stalagmite symbolizing the Shiva linga. This attracts lots of tourists from all over world and supposed to be one of the most admired shrines in the country. Pilgrims come at this gorgeous place while facing the extreme climates. As per the religious beliefs, this ice linga changes its shape according to the different phases of moon.
5. Undavalli Caves in India, Andhra Pradesh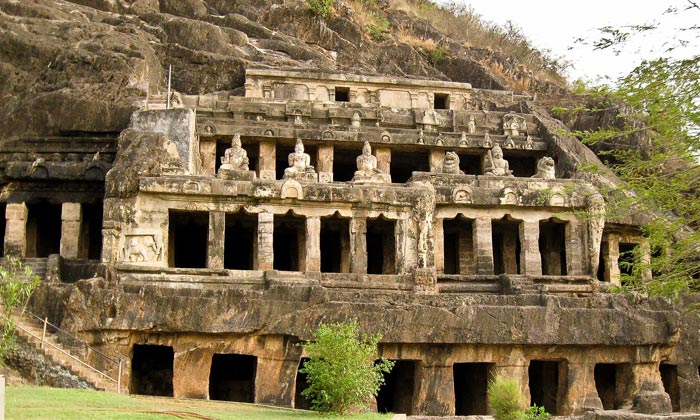 Located at about 6 km away from Vijayawada, Undavalli Caves in India (Andhra Pradesh) is a wonderful example of the Indian rock cut architecture. Formerly, it was a Jain cave that represents the Khandgiri and Udaygiri architectures. Undavalli Caves are made of sandstone and were made in the 4th and 5th century AD. There are several caves here and the largest one has a huge and eye-catching idol of Vishnu in a reclining position. The cave depicts how Buddhist architecture led into the creation of these stupas and artifacts that were later converted into Hindu temples.
6. Udayagiri and Khandagiri Caves, Orissa
Located close to Bhubaneswar of Orissa, Udayagiri and Khandagiri Caves are perfect blend of man-made and natural. The caves enjoy highly religious and archaeological significance. The caves in India are dotted with complex and decorated sculptures and formations. It is said that these caves were originally created with a purpose to provide dwellings to the Jain monks. Literal meaning of Udayagiri is sunrise hill and Kandhagiri means broken hill. Beautiful sculptures of these caves are considered as treasures.
7. Vaishno Devi, Jammu & Kashmir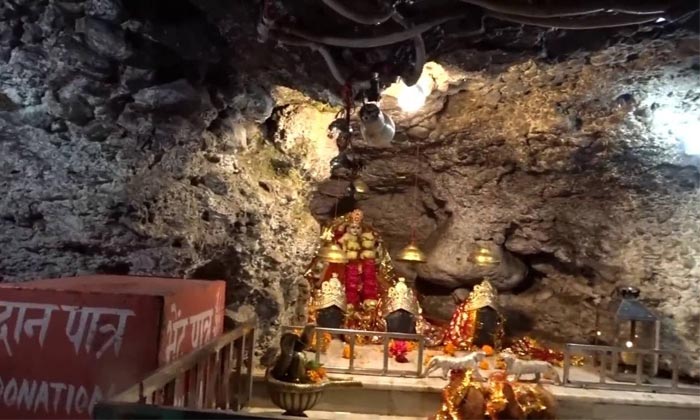 Vaishno Devi is one of the most popular caves in India, which is also one of the holy Hindu pilgrims of the country. The cave temple is dedicated to Shakti and located in the Trikuta Mountains. The idol of the main deity in this temple is a stone structure that represents three goddesses- Saraswati, Kali and Lakshmi. There are many legends attached to this temple that add a mysterious element to this temple.
8. Badami Caves, Karnataka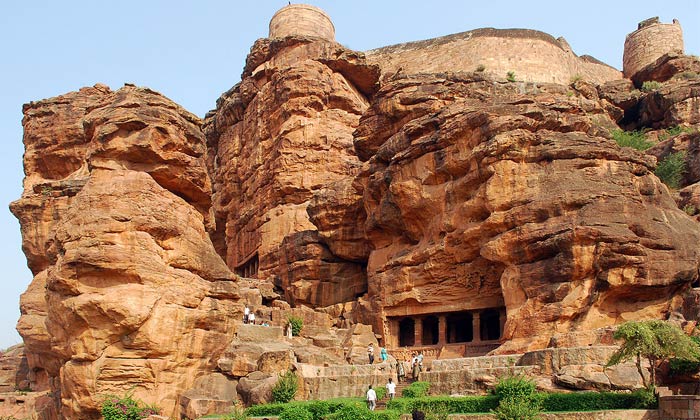 Badami Caves are a total of four caves, which are perfect illustration of the Indian rock cut architecture and the Badami Chalukya architecture. It is a UNESCO World Heritage Site and protected from all types of damage occuring. Some of its temples depict really great Hindu temples. Designs on these caves have transformed the Malaprabha River valley into a formation of temple architecture. The caves depict the original evidences of wall painting and Indian art. Architecture of these caves is inspired from the Nagara and Dravidian style. Each cave has a mandap, stunning pillars, a stately verandah and a sanctorum. If you love to click pictures of mysterious ancient sculptures, it is a place for you.
9. Elephanta Caves, Maharashtra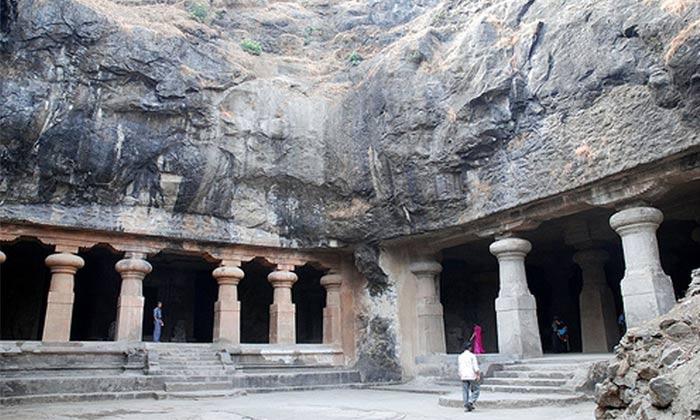 Elephanta Caves in India are the collection of the sculpted caves on the Elephanta Island in Mumbai Harbor. It can be reached through the ferries available all through the day from Mumbai. The island features two groups of caves — the first one is a group of five Hindu caves while the second is a group of two Buddhist caves.
10. Ellora Caves, Maharashtra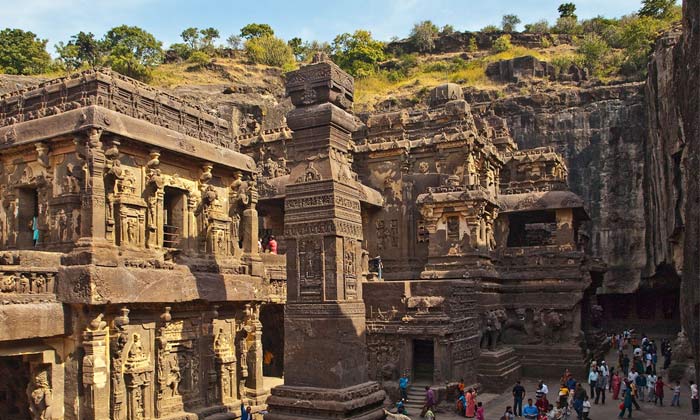 Ellora Cave is an archaeological site, which is located 29 km away from Aurangabad in Maharashtra. It is known for its monumental caves and is a World Heritage Site. There are 34 caves, which are in fact structures excavated out of the Charanandri hills. There are Buddhist, Hindu and Jain rock-cut temples and religious structures here that were built between the 5th century and 10th century.
10 Great Outdoor Adventures in Switzerland
Switzerland may be known for many things, including the beautiful snow-capped Alps. But there are many adventures in Switzerland (a mountainous central European country),as there is no snow all year round, and in the great Switzerland there is something to do in the fresh air, in addition to conquering the slopes on skis.
Enjoying a winter adventure in the Swiss Alps is definitely high on many outdoor enthusiasts' bucket lists, but there are wonderful sights, scenic hikes, and even the opportunity to take to the skies to enjoy Switzerland's stunning scenery when there's no snow. Here's a look at what Switzerland has to offer at any time of the year.
ADVENTURES IN SWITZERLAND
WINTER: Skiing in the Alps
The top ski destinations in the Swiss Alps include Zermatt, below the magnificent pyramidal Matterhorn, and St. Moritz, considered the world's leading winter sports resort and is one of the best adventures in Switzerland. Linking the cities of Davos and Klosters, Parsenn is also a winter wonderland with its many ski playgrounds.
Most of these Swiss ski resorts offer a variety of amenities for a wide variety of adventure seekers. There are challenging trails for die-hard experts, as well as gentle slopes for families and beginners.
Open: January–February
WINTER: Sledging from Preda to Bergün
Ride the Albula line of the Rhaetian Railway to Preda on one of Switzerland's most popular toboggan runs. Train travel offers you breathtaking Swiss scenery as you pass the Landwasser viaduct and through the spiral tunnel. The 6km trail here is breathtaking, offering alpine views of the viaducts as you turn around its bends.
Riders who are looking for a more challenging course, steeper and tighter, can take the chairlift up to Darlux and enjoy the thrilling descent. Both races will finish in the picturesque mountain town of Bergün.
Open: January–February
SPRING: Hiking in the Jungfrau region
In spring, the Jungfrau region is a mountain paradise (a site for adventures in Switzerland). It is ideal for hiking thanks to its collection of hiking trails. These trails showcase stunning alpine views with green slopes, blue lakes and beautiful flower fields, as well as snow-capped peaks.
Popular trails include the Eiger Trail in Grindelwald and Blumenthal and Via Ferrata in Mürren. Many adventurers often stray off these trails towards quieter trails such as the Obersteinberg which starts in the village of Stechelberg. Most of the trails are clearly marked and walkable.
SPRING: Whitewater rafting down Lütschine River
In spring, some of the best Swiss rivers become places of pilgrimage for rafting enthusiasts. Lucine in the Bernese Oberland is especially popular with fans of this adventure sport. Rapids flow from Zweilütschinen to Lake Brienz, north of the Alps in Bern.
The Luchin Rapids are breathtaking class III-IV rapids that will take you on an exciting journey through the picturesque Interlaken Valley. Most rafting operators offer a photographer to capture moments of your activities along the way.
Open: March to June
SUMMER: Sightseeing on the Gelmer Funicular
Summer brings bright days to the Swiss countryside, and one of the most peaceful ways to take in the panoramas is by riding the Gelmerbahn funicular. What was once used to transport materials for the construction of the Helmersee Dam in the 1920s is now one of the steepest funiculars in Europe.
Descent from slopes with a slope of more than 45° delivers a unique experience. The funicular transports 24 passengers at the same time. Round-trip tickets cost about 32 francs for adults and 12 francs for children from 6 to 16 years old.
Open: June, September and October.
SUMMER: Paragliding at Lauterbrunnen
You can take to the skies and soar over the stunning Swiss countryside with a tandem paragliding flight. Several operators offer tandem flights from Lauterbrunnen, the central city of the Jungfrau region. After a few safety briefings, you'll be heading out for a few practice rides before the actual run down the gentle slope.
Together with your guide pilot, you will fly over distant mountains and meadows and make a circle to capture some of the most breathtaking scenery in the Alps. You can also admire mountain towns that are usually hidden from view in their mountainous surroundings.
Open: July-August
SUMMER: Jetboating in Interlaken
Thrill-seekers and adrenaline junkies enjoy high-speed swimming on Lake Brienz in Interlaken. The jet boats can accommodate up to 11 passengers for an exciting ride as the pilot turns on the engines for high-speed runs, spins and full 360° rotations. There will be many moments of wind in your hair and dew on your face to remember.
The tour also includes a stop at the foot of the Giessbach waterfalls. You will have plenty of time to stop in the middle of the excitement to take in the breathtaking view of the turquoise lake framed by nearby forests and the distant Alps.
Open: every day from 9:00 to 17:00
SUMMER: Sliding down to Oeschinen Lake
The Rodelbahn or Alpine slide is a fun summer sleigh ride on a specially designed toboggan run through the picturesque landscape above Lake Oeschinen. You sit comfortably on a hill with wheels as you ride straight and winding for a distance of 750 meters.
You can find the start of the Alpine slider at the Eschinensee cable car station. The slide is open only in summer and only in dry weather. This very exciting trip starts from 4 francs for adults and 3 francs for children.
Open: from May to October.
AUTUMN: Camping in Arolla
Autumn brings out nature's most changeable colors, and what better way to enjoy the splendor than spending a night or two outdoors adventures in Switzerland? The village of Arolla offers one of the best campsite adventures in Switzerland, as it hosts one of the highest campsites in Europe.
At an altitude of about 1998 meters above sea level, the campsite is surrounded by dense pine forests against the backdrop of the glacial peaks of Mont Collon. Despite all the pristine nature around you, you will still find modern and comfortable bathrooms and showers with hot water.
Open: September-December
AUTUMN: Mountain biking in Zermatt
The mountains around Zermatt offer many exciting and scenic mountain bike trails. Some of the trails here are made from natural materials over steep terrain, while others use man-made materials. But, natural or not, they all share the same spectacular landscape.
To experience mountain biking in the Alps for the first time, you can ride the moderate trails of Moos and Sunnegga. While more experienced cyclists can test themselves on the Obere Kelle trail, which has more challenging climbs punctuated by great views.
Open: September-December
The best free tours in Spanish in Europe
More and more cities have free tours in Spanish among their most contracted and best valued excursions. These guided tourist routes, which do not have a fixed price, have become a perfect option through which you can get to know the most famous places while learning the history, anecdotes and legends of the city.
In addition, we cannot forget something very important and that is that free tours are a perfect way to save money on your trip, since the price is the will . That yes, as much as it is like that, try to scratch your pocket a little and have the good will to value a good guide and that thebest free tours in Spanish in Europe continue to exist.
All the specific data of the free tours, such as their duration, meeting point, ways to reserve… etc. You can find them in each of the links that lead to the free tours in Spanish .
Free tour of Amsterdam Free!
Known for being one of the most open cities in the world, Amsterdam is also a city that never disappoints. Canals, flowers, places full of charm and terraces where you can sit and enjoy watching life go by, are just some of the many things that await you in this incredible city.
Amsterdam free tour itinerary
Starting at the Train Station, this free tour of Amsterdam will continue through Zeedijk street until reaching the Oudekerk church, the oldest in the city of Amsterdam and the starting point of the Red Light District, one of the most controversial locations. from the city.
From here you will continue the route entering the Chinatown, and then continue through the Nieuwmarkt, the Jewish Quarter, where the Rembrandt house and the Waterlooplein flea market are located, and then arrive at the Flower Market, one of the most iconic points and beautiful of the city.
The free tour of Amsterdam in SpanishIt will end in Dam Square, another of the best known places in the city, where you can't stop taking hundreds of photos, which will be one of the many memories of your trip to the city.
Free tour of Barcelona Free!
Cosmopolitan city where they exist, Barcelona is one of those destinations that will not disappoint you, whatever you are looking for and it is an ideal city for all types of travellers.
Itinerary Free tour of Barcelona
Starting in the emblematic Plaza de Catalunya, this free tour of Barcelona will take you to see some of the most interesting points of the city such as Las Ramblas, the Gothic Quarter, where you can see the Plaza de Sant Jaume, the Cathedral of Santa Eulàlia or the Plaza del Rey in addition to entering the incredible Call or Jewish quarter.
The free tour of Barcelona ends at the famous Els Quatre Gats and the Palau de la Música Catalana.
Free tour of Berlin Free!
Berlin, a city in constant evolution after its destruction in World War II, is known as the city of a thousand faces , as well as being one of the most visited destinations in Europe and a place with one of the most heartbreaking stories in the world. .
Berlin free tour itinerary
The route of this free tour of Berlin in Spanish begins in the Lusgarten gardens, on the Museum Island, where after learning about the history of the city and many details about it, you will continue the itinerary to Bebelplatz, a place known for the famous burning of books that took place during Nazism.
You will continue the tour of the city until you reach Checkpoint Charlie, another of the city's iconic places, and continue to the Berlin Wall, where you will continue to learn details of the city's history, until you reach the
Holocaust Memorial and then continue to Unter den Linden.
The free tour of Berlin will end at the Brandenburg Gate, one of the most famous and emblematic points of the city.
Free tour of Bruges Free!
Known for being one of the most beautiful cities in Belgium, and dare we say even in Europe and the world, Bruges is a perfect getaway from lively Brussels, where you can spend a day or several enjoying its incredible and magical atmosphere. .
Bruges Free Tour Itinerary
This Free Tour of Bruges in Spanish begins in the beautiful Grote Markt square, the nerve center of the city, to continue through the canal area, one of the most beautiful in the city, and continue to Minnewater, known as the Lake of Love.
From here and after getting to know the area, the history and many curiosities about the city, the Bruges Free Tour will take you back to the Grote Mark, where it will come to an end.