The Complete Guide: 12 Essential Group Touring Strategies for a Smooth Trip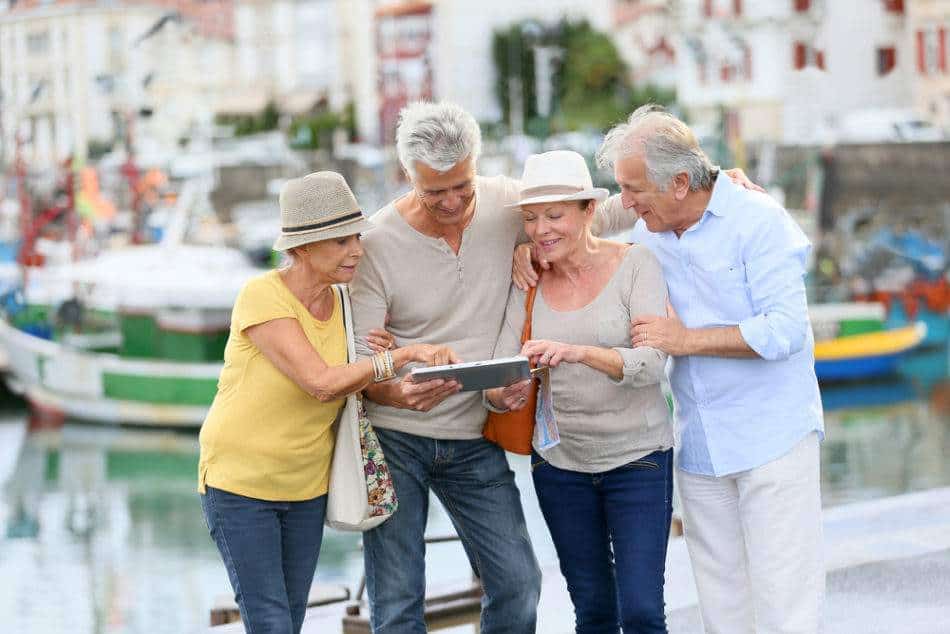 Welcome to 'The Complete Guide: 12 Essential Group Touring Strategies for a Smooth Trip.'
In this informative article, we will explore the key strategies that ensure a seamless journey for group travelers.
From pre-departure meetings to selecting the right travel agency, managing culture shock to maintaining personal hygiene, packing light to understanding tour pace, we aim to equip you with the necessary tools for a memorable and hassle-free experience.
Join us as we unveil the secrets to a successful group tour.
Pre-Departure Meetings
During pre-departure meetings, it is crucial for group tour organizers to provide comprehensive information and address any concerns or questions that may arise among participants.
One important aspect to cover during these meetings is travel insurance. Group tour organizers should inform participants about the importance of having travel insurance to protect themselves against unforeseen events such as medical emergencies, trip cancellations, or lost luggage. They should also provide information on different insurance options and help participants understand the coverage and benefits.
Another key topic to discuss is communication strategies. Group tour organizers should inform participants about the modes of communication that will be available during the trip, such as cell phone coverage, Wi-Fi availability, or any other means of staying connected. They should also provide emergency contact information and make sure that participants know how to reach them or the tour guide in case of any issues or emergencies.
Travel Agency Selection
When it comes to selecting a travel agency for your group tour, it's important to consider a few key points.
First, look for trusted agency reviews to ensure that you're working with a reputable and reliable company.
Additionally, expertise in group travel is crucial, as experienced agencies will understand the unique challenges and needs of traveling in a large group.
Trusted Agency Reviews
Travelers should prioritize trusted agency reviews when selecting a travel agency for their group tour. These reviews offer valuable insights into the experiences of previous customers, giving potential travelers a better understanding of the agency's reliability and customer satisfaction.
Here are four reasons why trusted agency reviews should guide your decision-making process:
Unbiased Feedback: Trusted agency reviews provide honest and unbiased feedback from real customers who have experienced the agency's services. This allows you to make an informed decision based on the experiences of others.
Quality Assurance: Positive reviews demonstrate that the agency consistently delivers quality services and meets customer expectations. This gives you confidence in their ability to provide a smooth and enjoyable group tour experience.
Red Flags: Negative reviews can highlight any potential issues or concerns with the agency's services. By paying attention to these reviews, you can avoid agencies that have a history of poor customer satisfaction or unprofessional behavior.
Personal Recommendations: Trusted agency recommendations from friends, family, or fellow travelers can be invaluable. These firsthand accounts offer a level of trust and reliability that can help you choose the right agency for your group tour.
Expertise in Group Travel
Trusted agency reviews help inform the selection process for a travel agency by providing insights into their expertise in group travel and ensuring a smooth trip. When choosing a travel agency for group travel, it is important to consider their understanding of group dynamics and their ability to implement effective communication strategies.
An experienced travel agency will have a deep understanding of group dynamics, recognizing the unique challenges and opportunities that arise when traveling with a large group of people. They will be able to anticipate potential conflicts and address them proactively, ensuring a harmonious and enjoyable trip for all participants.
Effective communication is crucial in group travel, and a knowledgeable agency will have strategies in place to facilitate clear and efficient communication among group members. This includes providing detailed itineraries, clear instructions, and open channels of communication to address any questions or concerns.
Customizable Tour Options
The selection of a travel agency for group travel is made easier by the availability of customizable tour options. Travel agencies understand that each group has unique preferences and requirements when it comes to their travel experience. By offering customized itineraries, these agencies allow groups to have the freedom to design their own trip according to their specific interests and needs.
Here are four reasons why customizable tour options are a great choice for group travel:
Tailored Experiences: With customizable tour options, groups can choose activities and attractions that align with their interests. Whether it's exploring historical sites, enjoying outdoor adventures, or indulging in culinary delights, the itinerary can be tailored to suit the group's preferences.
Flexibility: Customizable tour options provide the flexibility to adjust the itinerary during the trip. If the group wants to spend more time at a particular destination or explore an unexpected attraction, the travel agency can accommodate these changes.
Group Discounts: Many travel agencies offer group discounts for customized tours, making it more affordable for larger groups to travel together. These discounts can help save money while still enjoying a personalized travel experience.
Personalized Support: With customizable tour options, travel agencies provide personalized support to the group throughout the planning and execution of the trip. From assisting with bookings to providing local recommendations, the agency ensures a smooth and hassle-free experience for the group.
Tour Leader Role
Taking charge of coordinating and facilitating the group's itinerary, the tour leader plays a crucial role in ensuring a smooth and enjoyable trip for all participants. Responsible for managing the group, the tour leader must possess excellent organizational skills and the ability to handle unexpected situations.
From the moment the group gathers at the starting point, the tour leader takes charge, providing a warm welcome and setting the tone for the trip. Throughout the journey, they are responsible for keeping the group informed about the itinerary, ensuring everyone is on schedule, and addressing any concerns or questions that arise.
Additionally, the tour leader must have strong communication and interpersonal skills to foster a positive group dynamic and create a sense of camaraderie among the participants.
Culture Shock
Culture shock can be a common occurrence when traveling in a foreign country. Coping with differences and overcoming cultural barriers are essential strategies for a smooth trip.
Coping With Differences
Adjusting to unfamiliar customs and traditions can be a challenge when traveling in a group. Coping with differences, also known as culture shock, requires effective cultural conflict resolution and strong communication skills. Here are four strategies to help you navigate these challenges:
Respect and curiosity: Approach new customs with an open mind and show respect for the local culture. Embrace the opportunity to learn and ask questions to deepen your understanding.
Adaptability: Be flexible and willing to adjust your behavior to fit in with the local customs. This includes dressing appropriately, observing social norms, and being mindful of cultural sensitivities.
Active listening: Listen attentively to others and try to understand their perspective. Avoid making assumptions or jumping to conclusions.
Patience and empathy: Accept that cultural differences may lead to misunderstandings or conflicts. Maintain a patient and empathetic attitude towards others, and be willing to compromise when necessary.
Overcoming Cultural Barriers
Navigating the challenges of cultural barriers can be achieved by effectively managing cultural conflict resolution and utilizing strong communication skills. Overcoming language barriers is a crucial aspect of cultural integration during group tours. To ensure smooth communication, it is helpful to learn a few basic phrases in the local language, such as greetings and simple questions. Additionally, using translation apps or hiring local guides who can act as interpreters can greatly assist in overcoming language barriers.
Understanding local customs is equally important for a successful trip. Researching and familiarizing oneself with the customs, traditions, and etiquette of the destination can help avoid cultural misunderstandings and show respect for the local culture. Being open-minded, adaptable, and willing to learn from the local community will enable travelers to overcome cultural barriers and fully immerse themselves in the destination.
Personal Hygiene
Maintaining proper personal hygiene is crucial for the overall well-being and comfort of individuals during a group tour. When traveling in close quarters with others, it is important to be mindful of body odor and to practice good personal grooming habits. Here are four essential strategies to ensure personal hygiene during a group tour:
Regular showering: Taking daily showers will help keep your body clean and fresh, reducing the chances of body odor.
Deodorant and antiperspirant: Using these products can help control sweat and mask any potential body odor.
Clean clothes: Changing and washing your clothes regularly will prevent the buildup of bacteria and unpleasant odors.
Oral hygiene: Brushing your teeth, using mouthwash, and carrying breath mints or gum will maintain fresh breath throughout the trip.
Fitness Level
When planning a group tour, it is important to consider the fitness levels of all participants. Physical activity requirements should be clearly communicated to ensure that everyone is able to participate comfortably.
Additionally, it may be necessary to tailor the fitness expectations to accommodate individuals with varying levels of fitness.
Physical Activity Requirements
Assessing participants' fitness levels is crucial for ensuring a smooth and enjoyable group tour experience. Tailoring fitness expectations to the capabilities of each individual is essential to create a positive and inclusive environment. It is important to consider any travel restrictions or limitations that may affect certain activities.
Here are four strategies to address physical activity requirements:
Conduct a pre-tour fitness assessment to gauge participants' abilities and limitations.
Provide detailed information about the physical demands of the tour, including the level of difficulty for each activity.
Offer alternative options or modifications for participants with lower fitness levels, ensuring everyone can participate to the best of their abilities.
Communicate any travel restrictions or limitations that may impact certain activities, such as age restrictions or medical conditions.
Tailoring Fitness Expectations
Tailoring participants' fitness expectations is crucial for ensuring a smooth and enjoyable group tour experience. Managing expectations and staying active are essential elements of a successful trip.
It is important for tour leaders to communicate the level of physical activity required and provide participants with a realistic understanding of what to expect. This allows individuals to adequately prepare and adjust their fitness routine prior to the trip. By setting clear expectations, participants can make informed decisions about whether the tour is suitable for their fitness level.
Additionally, tour leaders should offer a range of activities that cater to different fitness levels, ensuring that everyone can participate and enjoy the tour at their own pace. This approach allows participants the freedom to engage in activities that align with their abilities, promoting a positive and inclusive group experience.
Travel Restrictions
In order to ensure a smooth and successful group tour experience, it is vital to carefully navigate and adhere to any travel restrictions that may be in place. These restrictions are put in place to protect the health and safety of both travelers and locals.
Here are four important aspects to consider when dealing with travel restrictions:
Travel Insurance: It is essential to have comprehensive travel insurance that covers any unexpected cancellations or medical emergencies. Make sure to carefully review the policy to understand what is and isn't covered.
Vaccination Requirements: Many countries have specific vaccination requirements to prevent the spread of diseases. Research and comply with the vaccination recommendations or requirements for your destination to ensure a hassle-free entry.
Entry and Exit Requirements: Different countries have different entry and exit requirements, such as visa regulations, quarantine periods, and COVID-19 testing. Stay updated with the latest information from official sources and plan accordingly.
Local Regulations: Once at the destination, be mindful of local regulations, such as mask mandates, social distancing measures, and curfews. Respect these guidelines to contribute to a safe and enjoyable experience for everyone.
Tipping Protocol
To ensure a smooth and enjoyable group tour experience, it is important to understand and follow the appropriate tipping protocol, which can greatly enhance the overall satisfaction of both travelers and service providers.
Tipping etiquette varies from country to country, so it is crucial to familiarize yourself with the gratuity customs of your destination. In some places, tipping is expected and considered a standard practice, while in others it may be seen as offensive or unnecessary. It is recommended to research the tipping customs of your specific destination before embarking on your group tour.
Additionally, it is important to consider the quality of service received when determining the appropriate amount to tip. A good guideline is to tip between 10-20% of the total bill or service cost, but it is always appreciated to give more for outstanding service.
Packing Light
Efficiency is key when it comes to packing for a group tour, and prioritizing minimalism can greatly enhance the overall travel experience. Packing light allows for more freedom and flexibility during the trip, making it easier to navigate crowded airports, buses, and hotels.
Here are some essential packing tips for minimalist travel:
Create a packing checklist: Make a list of the absolute essentials you need for your trip, and stick to it. Avoid packing unnecessary items that will only weigh you down.
Choose versatile clothing: Opt for clothing items that can be mixed and matched, allowing you to create multiple outfits with fewer pieces. This will save space in your suitcase.
Use packing cubes: These handy organizers help maximize space in your luggage and keep everything neat and organized.
Pack travel-sized toiletries: Instead of lugging around full-sized toiletries, invest in travel-sized versions or transfer your products into smaller containers.
Tour Pace
Packing light and embracing a minimalist approach is only the first step in ensuring a smooth group tour experience; another crucial aspect to consider is the tour pace. The tour pace refers to the speed at which the group will be moving from one destination to another and the amount of physical activity involved.
It is important to take into account the fitness level of the participants when determining the tour pace. Some travelers may prefer a more leisurely pace, with plenty of time to explore each location at their own leisure. On the other hand, more active and adventurous individuals may prefer a faster pace, with opportunities for hiking, biking, or other physical activities.
Homesickness
Homesickness can be a common challenge for participants on a group tour. Being away from the comfort of home and loved ones can often lead to feelings of loneliness and longing. However, there are effective coping strategies and communication methods that can help individuals overcome homesickness and make the most of their group tour experience.
Here are four tips to help combat homesickness:
Stay connected: Utilize technology to stay in touch with family and friends back home. Regular video calls or messages can provide a sense of connection and support.
Engage with fellow travelers: Build relationships with other participants on the group tour. Sharing experiences and forming new friendships can help alleviate feelings of homesickness.
Keep busy: Stay engaged in the activities and excursions planned during the tour. Keeping a busy schedule can help distract from feelings of homesickness.
Embrace the experience: Instead of dwelling on what is being missed back home, focus on the unique opportunities and experiences that the group tour offers. Embrace the adventure and make lasting memories.
Tour Extensions
One important aspect to consider during a group tour is the option of tour extensions. Tour extensions provide an opportunity for tour flexibility and allow participants to make itinerary adjustments based on their preferences. Whether it's adding extra days to explore a particular destination or incorporating additional activities into the schedule, tour extensions offer a level of freedom that appeals to those seeking a more personalized experience.
Tour flexibility is essential for accommodating different interests and preferences within a group. It allows individuals to tailor their experience by choosing activities that align with their specific interests. For example, some participants may want to extend their stay to visit a local museum or take part in a cooking class, while others might prefer to spend their extra time exploring the natural beauty of the surrounding area.
Itinerary adjustments can also be made to optimize the group's overall experience. If certain attractions are particularly popular or if unexpected circumstances arise, tour extensions can be utilized to allocate more time to these areas or to include alternative activities. This flexibility ensures that participants get the most out of their trip and have the freedom to make the most of their time.
Frequently Asked Questions
Can I Bring My Pet on a Group Tour?
Bringing pets on a group tour can be a complex issue. While some accommodations may allow pets, others may have restrictions or require additional fees. It is important to check with the tour operator beforehand to ensure you comply with their policies.
Are Group Tours Suitable for Solo Travelers?
Group tours can be a suitable option for solo travelers. They offer numerous benefits, such as the opportunity to meet new people and share experiences. Group dynamics can enhance the overall trip and provide a sense of security and companionship.
Are There Any Age Restrictions for Joining a Group Tour?
Age requirements for joining a group tour vary depending on the tour operator and destination. Some tours may have age restrictions, while others are open to all ages. Additionally, tour size can also vary, ranging from small intimate groups to larger ones.
Can I Join a Group Tour if I Have Dietary Restrictions or Allergies?
If you have dietary restrictions or allergies, it is important to inquire with the group tour operator about their ability to accommodate your needs. Many tour companies are willing to make accommodations, but it is best to check in advance.
Is Travel Insurance Included in the Group Tour Package?
Yes, travel insurance is an important aspect of any group tour package. It provides coverage for unforeseen events such as trip cancellations, medical emergencies, and lost baggage. Group tour insurance options can vary, so it's important to review the policy details before purchasing.