Hong Kong's Culture Shaping the Tourism Experience
This World Tourism Day embark on an unforgettable virtual journey to Hong Kong, a city that offers a myriad of experiences blending art, history, and culture in perfect harmony. A city that is instantly recognisable for its high-rises, neon street signs, and the famed Victoria Harbour. However, there is more to Hong Kong than meets the eye!
A place of hidden treasures that will take you through an experience you have never seen before.
On this World Tourism Day, we have listed our few special treasures of the city that will help you build up your travel bucket list!
1. HK Neighbourhoods: West Kowloon Cultural District
West Kowloon is a real testament to Hong Kong's ingenuity and transformation. It's worth noting that beneath all the bling and glamour, this remains one of the city's oldest neighbourhoods. This emerging neighbourhood brings together the city's traditional craftsmanship, historic structures, authentic dining, and shopping experiences to the new bustling energy of an international art and culture district thus creating modern traditions.
There are plenty of gems for each traveller who wants to rediscover Hong Kong.
Five themed walking tours, focusing on Heritage & Craftmanship, Cultural Arts, and Culinary Arts, have been created for you to illustrate the unique characteristics of each location and to showcase the offerings for every traveller kind.
Take a tour to the heritage and craftmanship:
– Where modern architecture meets history:
There is a surprising amount of history to be garnered from the area's architecture. You can go on a stroll around the streets of West Kowloon, where you can expect to see Art Deco designs, Victorian Gothic giants, Neoclassical structures, and modern architectural masterpieces all in one. From historic to modern, you'll see a transformation. For visitors keen to know more about the transformations, we suggest you visit the Hong Kong Museum of History. Visit here
– Made by hand: Local treasures of West Kowloon:
Discover Hong Kong's intangible heritage through the alleys and hidden doorways of West Kowloon and discover the local treasures of Hong Kong
Sindart: Sindart is a small store that was established in 1958 that sells traditional embroidered Chinese footwear. These silk-brocade slippers were popular amongst ladies of the upper and middle class, who wore them inside their homes. Sindart's slippers are entirely handmade, with traditional designs infused with modern elements such as pandas and owls, as well as non-traditional flora such as camellia and cherry blossom.
Koon Nam Wah Bridal: Koon Nam Wah, a Chinese bridalwear boutique founded in the 1920s, specialises in highly embroidered dresses and jackets. The patterns are meticulously embroidered by hand over the course of weeks to a year, and are brought to life on silk with gold and silver thread.
Immerse yourself into the world of Hong Kong's Cultural Arts
Whether you are looking for the latest art world or a casual supplier of cultural delights, the West Kowloon neighbourhood offers an astounding range of artistic activities.
The jewel in the crown, M+ Museum: Begin your journey in the West Kowloon Cultural District's heart and soul. M+, Asia's first worldwide museum of modern visual culture will feature 20th and 21st century visual art, design and architecture, moving images, and the subject area of Hong Kong visual culture.
Panoramic View, Sky100: An observation deck unlike any other in Hong Kong, is located on the 100th level of the International Commerce Centre. Sky100 does provide a breath-taking 360-degree panoramic view of Hong Kong from a substantially elevated vantage point.
Familarise yourself with Cantonese Culture, though Opera Xiqu Centre: Turn your gaze to the Xiqu Centre, Hong Kong's main theatre for Chinese opera, for a taste of world-class performing arts which offers the ideal platform for educating new generations and out-of-town visitors on the cultural history of this traditional art form.
To checkout a series of places, an amalgamation of live music, indie films, Chinese opera, internationally acclaimed arts, and local Hong Kong grassroots creators. Visit here.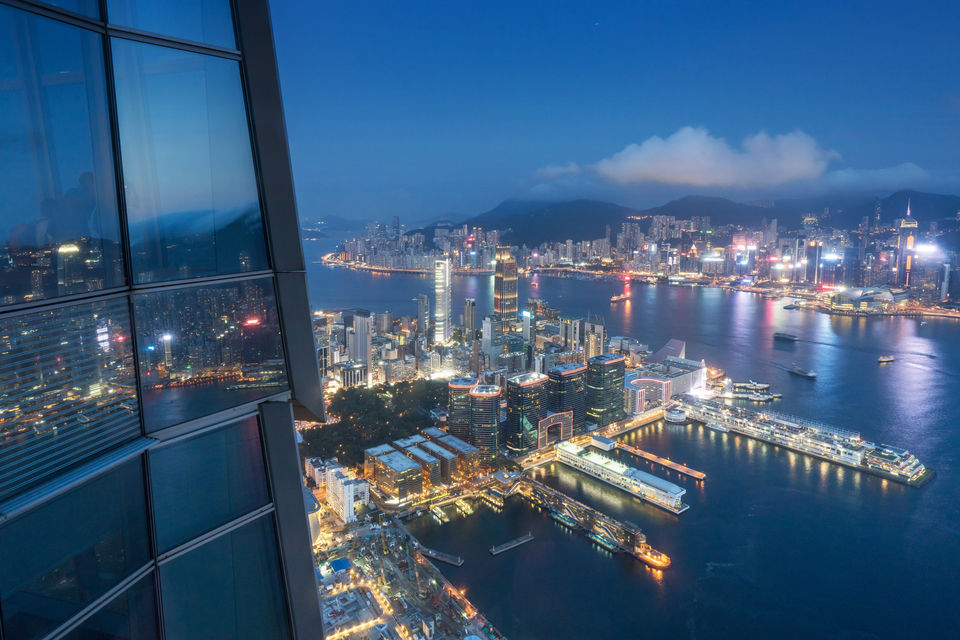 Feast your way through delicious local flavours to explore HK's Culinary Arts
If local flavours are your thing when it comes to discovering new areas, West Kowloon will undoubtedly satisfy your cravings You may feast your way through numerous time-honoured, family-run enterprises that have played a part in establishing Hong Kong's gastronomic landscape, in addition to seeking knick-knacks in quirky vintage emporiums.
For food lovers who are keen to discover unique flavors, visit here.
If you are looking for curated itineraries, look no further and click here to explore the world of West Kowloon Culture District.
2. Great Outdoors of Hong Kong:
People yearning for new and epic experiences in the great outdoors have increased dramatically in recent years. However, due to the pandemic, people missed their chance to explore.
Hong Kong is unquestionably one of the most beautiful cities, but there's much more to it than meets the eye. Hong Kong is famed for its skyline, yet mountains, waterfalls, trails, and beaches cover over half of the city, making them great places to explore and unwind.
– Island Hopping – Peng Chau Island: Peng Chau, one of Hong Kong's most charming outer islands and well off the usual tourist trail, is about a half-hour drive from Central.
Despite its small size, the island is dotted with Instagram and photography spots — from remains of an old factory, beaches, and temples, to street arts that add vibrancy to this tranquil community.
You'll feel as if you can breathe easier the instant you arrive. This island has an unmistakable aura that emanates serenity.
– Conquering Hiking Trails – Shing Mun Reservoir: Nestled between Tai Mo Shan and Kam Shan Country Parks, this popular trekking location is a haven for various animals, including butterflies, monkeys, cattle, and even wild boars. Walk along the reservoir roads and paths to immerse yourself in this lovely location surrounded by nature, stopping at the paperbark trees for some Instagram-worthy images.
– Adrenaline activities for thrill seekers – Pumping sports: You might want to check out coasteering, which involves climbing, cliff jumping, and swimming around rocky coastal slopes, providing a unique way of experiencing Hong Kong's magnificent shoreline. One of the most popular spots for this water activity is the Sai Kung Geopark coasteering trail which offers majestic rolling hills, hexagonal rock columns, gigantic coastal cliffs, and various exciting jumping points.
3. Thriving Wellness Scene in Hong Kong:
With hunkered-down living, virtual life, and social isolation, the pandemic has hit us hard. Hong Kong, a city filled with energy, offers many opportunities to relax and unwind.
We bring you Hong Kong's wellness scene, which can help you plan your next trip to the city while also allowing you to relax and rejuvenate:
Fight Stress – Tai Chi: Tai Chi is a peaceful martial art that incorporates meditation, body awareness, flexibility, and breathing methods. The slow, synchronized practice dubbed "meditation in motion" is thought to have various mental and physical health advantages, ranging from improved balance and stability to lower blood pressure, pain alleviation, and relaxation. You can join an informal lesson in one of Hong Kong's public parks for free to get a taste of this distinctly Hong Kong experience.
Traditional Chinese Medicine: With Hong Kong's East-meets-West heritage, it's not surprising that Traditional Chinese Medicine (TCM) shares equal importance with its Western counterpart. Holistic clinics in Hong Kong offer medical services like acupuncture (where tiny needles are inserted into acupoints to rebalance your qi) and cupping, an ancient tradition in which a practitioner places inverted glass cups on the meridian points to suction the skin. The vacuum-like sensation is intended to boost circulation, aid detoxification, and relieve stress.
Healing Magic – Forest Bathing: Forest bathing, also known as shinrin-yoku, is a new stress-relieving movement based on the notion that connecting with Mother Nature has renewing and regenerative benefits. We have come with few places for you where you can experience forest bathing:
1. Tai Po Kau Nature Reserve: Tai Po Kau Nature Reserve, a route with densely concentrated clusters of forests, has been praised for its diversity of tree and animal species. As you saunter through the lush green thickets, listen to the trickling of the gorgeous streams and rivers.
2. Wu Kau Tang Country Trail: Located within the Plover Cove Country Park, this is a casual 2.4-kilometre shaded route that parallels a hilly stream. The old banyan trees and laniferous mangroves transport you back to a time before our modern woes.
– Alternate healing – Sound bath: Tibetan singing bowls, which have been used for centuries for healing and meditation, produce a variety of sounds that help to restore the normal vibratory frequencies of damaged and discordant portions of the body, mind, and soul.
Private gong baths and regular group sessions are available at Red Doors Studio in Wong Chuk Hang. CandleLit Rest & Restore Yoga with Crystal Singing Bowl is also available in Five Elements, which originated in Bali.
Defining tourism is not a simple matter, as it is a complex industry made up of many different businesses, the common theme being that they provide products and services to tourists/visitors.
According to the United Nations World Tourism Organisation (UNWTO), tourism entails the movement of people to countries or places outside their usual environment for personal or business/professional purposes. These people are called visitors. Generally speaking, a visitor is classified as a (same-)day visitor if their trip does not include an overnight stay and a tourist if it does include an overnight stay. The purpose of their trip can be for business, leisure or personal reasons, other than to be employed by a resident entity in the country or place visited.
If a trip's main purpose is business/professional, it is often subdivided into two further categories – 'attending meetings, conferences or congresses, trade fairs and exhibitions' and 'other business and professional purposes'.
Types of tourism
There are three basic forms of tourism: domestic tourism, inbound tourism, and outbound tourism.
Domestic tourism refers to activities of a visitor within their country of residence and outside of their home (e.g. a Brit visiting other parts of Britain).
Inbound tourism refers to the activities of a visitor from outside of country of residence (e.g. a Spaniard visiting Britain).
Outbound tourism refers to the activities of a resident visitor outside of their country of residence (e.g. a Brit visiting an overseas country).
The tourism industry in Britain is primarily a private sector industry, consisting of around 200,000 businesses, some very large including international hotel groups and airlines, as well as small and medium sized businesses, industry groups and bodies.
Domestic tourism is the core of businesses revenue (generally at least 80%, particularly outside of London), with demand peaking during the school holidays, particular Easter and Summer. Dealing with the demands of international visitors requires specialist knowledge, cultural understanding and investment.
Most UK statistics separate spending and volume of day visitors from overnight tourists. VisitBritain's statistics and research reports focus on overseas visitors who come to Britain.
For domestic statistics (ie. data on people from within Britain who visit another location in Britain) get in touch with the tourism organisations for England, Scotland, Wales, Northern Ireland and London. 
What are tourism products?
'Tourism product' covers a number of different categories including:
Accommodation, i.e. hotels, bed & breakfasts, guest houses, self-catering/serviced apartments, camping, caravanning and home stay
Hospitality, i.e. food and beverage serving services, e.g. pubs, restaurants, cafes, private dining for groups/conferences
Transport services, e.g. rail, road, water, air networks and rental
Guided tours and tourist guides
Travel agencies and other reservation services, including tour operators and destination management companies (see travel trade section)
Cultural services, e.g. museums, attractions
Sports and recreational activities
Retail
The travel trade
It is useful to distinguish between trips which are booked directly and those which are booked via third parties such as the travel trade. The travel trade acts as an intermediary between visitors and tourism products. The travel trade has multiple purchasing power. One tour operator can make arrangements on behalf of hundreds of other people.
The growth of the internet means that more people are now booking their trips directly, either online or by phone after researching on the internet. However, the travel trade still plays a major role, particularly in longer-haul markets or where visitors have more complex travel arrangements.
The travel trade are likely to bring both individuals and groups to Britain. Take a look at our working with the travel trade section to find out more.
5 essential places to visit in Kyoto
This list of places to visit in Kyoto will help you prepare a trip to a city that has been able to combine its ancient culture and traditions with modernity in an incredibly harmonious way. Neighborhoods that preserve their traditional wooden buildings and teahouses, still hurriedly toured by maikos and geishas, ​​hundreds of incredible temples and shrines, beautiful gardens and grand palaces, make Kyoto a traveler's dream.
Although any time is perfect to visit Kyoto, all its wonders shine even brighter in spring with the cherry blossom or hanami, turning the entire city into an explosion of colors and smells, which make these months, without a doubt, the best Time to travel to Japan.
Another of its great attractions is its delicious gastronomy, in which eating dishes based on sushi, sashimi, tempura, ramen, Kobe beef, okonomiyaki, gyozas or miso soup, will make your palate enjoy the most.
We have to confess that for us Kyoto became our favorite city during the trip to Japan on our own that we did a few years ago. Such was our infatuation with the city that we returned to spend a month living in an apartment in the Gion neighborhood, during which time we wrote this guide to Kyoto .
So, based on our experience of the time we spent in the city, we have made this list of what we believe are the 10 essential places to see in Kyoto . 
1. Fushimi Inari Taisha
We can say that Fushimi Inari-taisha is our favorite temple and one of the essential places to visit in Kyoto .
This sanctuary built in the 8th century in honor of the goddess of rice, is famous for its thousands of red or orange toriis, which wind their way through the base of the Inari mountain and have been donated by individuals and companies so that the God Inari be favorable to them.
If you have time, we recommend taking a long walk through its 4 kilometers of toriis until you reach the highest part and we are sure, it will be one of the experiences you will remember from the trip.
It is also important to keep in mind that Fushimi Inari is one of the most visited shrines, so we recommend coming first thing in the morning if you want to see it or take photos with few people.
The sanctuary, located less than 4 kilometers south of the city, can even be reached on foot, although the most common way is with the JR Nara line train ( included in the JR Pass ), from Kyoto Station. The journey is about 8 minutes and the train will leave you practically in front of the sanctuary, so it is the best way to get here. We made the visit first thing in the morning, taking advantage of the train trip that would later take us to the city of Nara.
Another option to learn more about the history of the shrine is to book this tour that includes Fushimi Inari and Narawith guide in Spanish.
The temple is open 24 hours a day, so you can get up as early as you want to visit it.
2. Kinkaku-ji
Kinkaku-ji or the Golden Pavilion , is a Zen temple in which its pavilion covered with pure gold leaves or gold leaf stands out.
The temple, a World Heritage Site, was built in 1397, although the current structure is from 1955 since in 1950 a monk with altered mental faculties set it on fire, it has a beautiful pond in front called the Water Mirror and a Japanese garden, is one of the postcard images of Kyoto.
Located a bit far from the center, to the west of Kyoto, you can reach the temple in half an hour with buses 101 and 205 from Kyoto station.
3. Gion District
Gion, the famous neighborhood of the geishas, ​​is another of the most essential places to visit in Kyoto . Taking a stroll at sunset through its narrow streets and traditional Japanese-style wooden houses is one of the best things to do in Kyoto . If you are also lucky enough to come across a maiko or a geisha on the way to a tea house, we assure you that the experience will be complete.
In addition to walking around the neighborhood, we advise you to pay special attention to Hanamikoji street, full of restaurants and tea houses, which is a good place to see them when they go to work from 5:00 p.m. to 7:00 p.m. or when they leave work from 8:00 p.m. 10 p.m.
Geishas, ​​called Geiko in Kyoto, are performers of traditional Japanese arts such as the famous tea ceremony. During their formative years,
4. Kiyomizudera
Kiyomizu-dera, the temple of pure water , is one of the most touristic places in the former imperial capital of Japan. This temple, built in 778 on a hill to the east of Kyoto, is famous for its magnificent views of the city, the pagodas, the pavilions, the doors and the nature that surrounds it, which form a set of extreme beauty.
Kiyomizu-dera, like most famous Kyoto temples , is best visited first thing in the morning, before organized groups arrive.
To get to the temple you can take the 100 or 205 bus from Kyoto station and get off at the Kiyomizu-michi or Gojo-Zaka stops, keeping in mind that the final ascent to the temple is done on foot.
Visiting hours: every day from 6 a.m. to 6 p.m.
5. Arashiyama Bamboo Forest
Strolling among more than 50 varieties of bamboo perfectly aligned while you hear the whisper of the swaying of the trunks produced by the wind, we are sure that it will be another of the moments that you will remember from a trip to Japan .
This bamboo forest, a plant of great importance in Japanese and Oriental culture, has in Arashiyama specimens of more than 20 meters in height that delight the thousands of tourists who come here every day.
Although the normal thing is to come only once during the trip, we recommend, if you have time, to visit the forest at different times of the day, since due to the change of light and colors, each one of the experiences becomes unique.
The 5 best gifts for travel lovers
Best gifts for travel lovers? It is not the first time that you have asked us this question and the truth is, we have to confess that it is not something as easy to answer as it seems at first glance. And we have to keep in mind that travelers are not easy at all. We know that "the details are what count" , but if we add the word "travel" to that equation , we assure you that getting the best gifts will be a safe bet. Do you want to prove it?
1. Kindle, 6" touch screen
Without a doubt, one of the best travel companions is a book. What would become of us without them during flights, long waits and of course, in moments of relaxation.
And although most of us love the smell and feel of the paper book, on many occasions this is not the most practical thing to travel, since for a traveler, weight and space are essential.
Taking this into account and after our experience, we will tell you that the electronic book is one of the best gifts for travel lovers.
2. FlyKube, the best gift for travel lovers
There is no better gift for a traveler than a trip. We agree on that, right? And if this trip is also a surprise, we are sure that from that moment on, you will become the favorite person of the globetrotter in question.
With FlyKube you have 4 options to surprise your favorite traveler with the best gift , which includes surprise travel experiences around Europe from 99 euros with flights and accommodation.
surprise destination
With this option you only have to choose the month of the trip and 4 days beforehand they will confirm both the destination and the weekend of the trip.
Main features:
– You choose the dates but not the destination
– 3, 4 or 5 day trip –
Direct round trip flights
– 3 or 4 star central hotel
– Breakfast not included
– City guide
VipKube
With VipKube you can travel to an exclusive destination, staying in 5-star hotels, which include breakfast. Without a doubt, the best gift for the most demanding travelers.
Main features:
– You choose the dates but not the PREMIUM destination
– 3 or 4 day trip –
Direct round trip flights
– 5-star hotel
– Breakfast included
– Includes a surprise activity
– City guide
all surprise
The most surprising of all. Choose the month and you will travel to a destination and a surprise weekend.
Main features:
– Choose the month of the trip to enjoy a surprise weekend and destination
– Weekend trip
– Direct round trip flights
– Hotel or B&B accommodation
– Breakfast not included
– City guide
surprise summer
This option is one of our favorites. You can enjoy a surprise vacation in a beach destination such as Santorini, Mykonos or Sardinia among others.
Main features:
– Choose the dates and the beach destination will be a surprise
– 5 or 7 day trip –
Round trip flights
– 3 or 4 star hotel by the sea
– Breakfast not included
– City guide
3. Plug adapter, a must for a traveler
If there is something that must accompany a traveler, it is a plug adapter. Although there are many models on the market, it is best to look for one that is small and weighs little and that also works for most countries.
We bought this international adapter compatible with more than 150 countries in the world that has become our great travel companion .
If in doubt, the adapter is the best travel gift .
4.Campark Sports Camera 4K
Almost without realizing it, sports cameras have made their way into the top 10 of the best gifts for travelers .
Taking into account that the best-known brand of this type of camera is not exactly cheap, and much less for a travel detail , if you do not want to spend a lot of money, a great option is this action camera, with which you can record your videos in 4K Ultra HD at 30 frames per second and will capture images at 16 Megapixels.
5. Mobile battery, another of the best travel gifts
Today that we always travel with a mobile phone and use it a lot (sometimes too much), there is nothing better than having an extra battery in case at some point we go blank .
We take two for our trips, one that has 3 phone charges and a smaller one that has one and a half charges.
We are not going to deceive you. We use it almost daily.