Lake Cumberland State Park
Lake Cumberland: A history of why and how it was created
The History of Lake Cumberland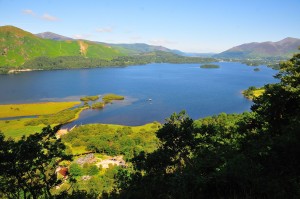 Lake Cumberland State Resort Park outside of Jamestown, Kentucky is one of the region's most poplar recreational areas. A water enthusiasts paradise and a house boaters dream, Lake Cumberland has seen tremendous improvements of the past few decades that make it an ideal location for a thrilling vacation amid nature. However, the need for hydroelectric power and a reservoir for flood control fueled interest in creating the lake as opposed to establishing a recreational site.
The impoundment of the Cumberland River in 1952 saw the creation of Wolf Creek Dam, the 25th largest of its kind in the US. Unfortunately, the dam has seen quite a few problems over the years including cracks, leaks, and breaches. Although the dam has prevented millions of dollars in flood damage since its creation, the costs are seemingly absorbed in the continual repairs required by the dam.
The dam was constructed just one year after the Secretary of the Army set aside a few thousand acres of this land for the development of the park. Originally named Lure Lodge due to the amazing fishing the lake offered, the name was changed to Pumpkin Creek Lodge in 1962 after the new lodge facilities created there. By this era, rustic vacation cottages, campground facilities, and other amenities were in place to welcome the first official park visitors to Lake Cumberland that same year.
Word of Lake Cumberland's activities and beautiful scenery had spread, and more visitors were coming to check out Kentucky's State Parks. Developers decided to add more cottages, tennis courts, a golf course, grocery stores, a playground, and other community services to draw in more visitors. Indoor recreations were even taken into consideration by the late 1980s with the addition of posh amenities to the lodge like Jacuzzis, game rooms, and a fitness center.
Today, houseboating is one of the most popular recreational activities on Lake Cumberland, and it's common for more than 1500 houseboats to be on the lake during the high season. Whether people go to Lake Cumberland for a little rest and relaxation or for an exhilarating outdoor experience, the possibilities are endless.
Activities and Attractions at Lake Cumberland State Resort Park
Houseboat rentals are very popular, and this option takes care of visitor's lodging and gives them a way to get around the lake to see the top sights; however, renting a kayak, jet ski, or small speed boat gives one even more freedom to move about. The Jamestown Marina & Resort is the place to head for all boating needs and wants on the lake.
Just about any season is a great one to visit Lake Cumberland, but the winters can be chilly and snowy, so much of the lake action concludes in October. Many come here to relish in the summer sun, while others prefer heading here in the fall when the leaves make their iconic autumn transition.
Birding enthusiasts enjoy the vast array of viewing and spotting opportunities around Lake Cumberland. The red-tailed hawk, the American Kestrel, and several owls species including the great horned barred, and screech owls frequent here. Fall and winter's chillier months bring out the wood ducks, whip-poor-wills, mallards, and the green and great blue herons.
Hiking along the beautiful shoreline or up into the bluffs are popular visitor activities on land. Old Hickory and oak forests overlook the lake, and there are two moderate hiking trails that are recommended for travelers. Baugh Branch Trail is about a mile and a half linear trail with easy, level terrain. The reward for making the trek is fantastic vistas overlooking the Baugh's Branch. Lake Bluff Trail is about a four-mile hike that begins at the Park Activities Center. This one's a bit tougher with steeper slopes and rougher grades, but it's a worthwhile hiking trail at Lake Cumberland.
Horseback riding is available around the lake from Memorial Day through Labor Day, and the golf course is open year round. Tee times may be scarce in the summer, so book early. Disc golf is a popular sport on Lake Cumberland, and the public course is open year round. Fishing, of course, is exciting on Lake Cumberland. Largemouth and smallmouth bass are highly sought after, but many come seeking the walleye and occasional sturgeon. Recent lake level reductions have the fishing rumored to be better than ever at Lake Cumberland
Lodging at Lake Cumberland
Certainly, visitors will want to give that houseboat rental on Lake Cumberland serious consideration if visiting from April to October. The outfitters at Jamestown Houseboat Rentals offer guidance and lessons so comprehensive, that even a first-time captain leaves the shoreline with their houseboat rental wholly confident.
Those looking for Jamestown resort lodging near Lake Cumberland on land will have several nice options. The all-suite accommodations at Jamestown Lodge Suites are complemented with onsite perks and affordable rates. Enjoy the comfort a private cottage at Lake Cumberland at the Jamestown Log Cabins, or take respite in a private Cape Cod style condo at the Chalet Condominiums.
Frankies Fun Park: An Exciting Destination for Family Fun
If you are looking for a place where you can spend quality time with your family and have fun at the same time, then Frankies Fun Park is the perfect destination. It is a family entertainment center located in North Carolina, where you can find a variety of activities that cater to all ages. From arcade games to go-karts, Frankies Fun Park has something for everyone.
About Frankies Fun Park
Frankies Fun Park was founded in 1999 and has since become a popular destination for family fun. It has two locations in North Carolina, one in Raleigh and the other in Greenville. The park features a wide range of attractions, including go-karts, mini-golf, batting cages, laser tag, bumper boats, and an arcade.
Attractions
Go-Karts: If you love speed, then you will love the go-karts at Frankies Fun Park. They have three different types of go-karts, including a kiddie track, a family track, and a slick track.
Mini-Golf: The mini-golf course at Frankies Fun-Park is 18 holes of pure fun. The course is well-maintained and features various obstacles that make the game more challenging.
Batting Cages: The batting cages at Frankies Fun Park are perfect for baseball and softball enthusiasts. They have six cages that range in speed from slow to fast.
Laser Tag: If you are looking for an adrenaline-pumping activity, then laser tag is the game for you. Frankies Fun Park has a multi-level arena that can accommodate up to 30 players.
Bumper Boats: The bumper boats at Frankies Fun Park are a great way to cool off on a hot day. The boats are equipped with water cannons that allow you to spray your opponents.
Arcade: The arcade at Frankies Fun Park has over 100 games, including classic games like Pac-Man and new games like Jurassic Park. You can win tickets that you can redeem for prizes.
Food and Drinks
Frankies Fun Park has a cafe that serves a variety of food and drinks. They have pizzas, burgers, hot dogs, chicken tenders, and more. They also have a variety of beverages, including soft drinks, iced tea, and lemonade.
Prices and Hours
| Attraction | Price | Hours |
| --- | --- | --- |
| Go-Karts (Kiddie Track) | $6.99 | 10 am – 10 pm |
| Go-Karts (Family Track) | $8.99 | 10 am – 10 pm |
| Go-Karts (Slick Track) | $9.99 | 10 am – 10 pm |
| Mini-Golf | $8.99 | 10 am – 10 pm |
| Batting Cages | $2.00 – $3.00 | 10 am – 10 pm |
| Laser Tag | $8.99 | 10 am – 10 pm |
| Bumper Boats | $6.99 | 10 am – 10 pm |
| Arcade | Varies by game | 10 am – 10 pm |
| Fun Pass (All Attractions) | $29.99 | 10 am – 10 pm |
Note: Prices and hours are subject to change. Please check the official website of Frankies Fun Park for the latest information.
Conclusion
Frankies Fun Park is an excellent destination for family fun. With its wide range of attractions, there is something for everyone. It is a great place to spend quality time with your family and make unforgettable memories.
Public holidays 2023 of America complete guide
As the end of the year approaches, many people start planning for the next year, and one thing that comes to mind is public holidays 2023. Public holidays are days set aside by a government or country to celebrate a historical event, tradition, or religious event.
In this article, we will tell you about the public holidays that will be celebrated in 2023, the meaning of each holiday and how to get the most out of them.
New Year – January 1, 2023
New Year marks the beginning of a new year and is celebrated all over the world. It is a public holiday in many countries and most businesses are closed. The New Year is a time for reflection, setting new goals, and spending time with family and friends.
Martin Luther King Jr Day – January 16, 2023
Martin Luther King Jr. Day is a federal holiday in the United States that honors a civil rights leader who fought for racial equality. Many schools and businesses are closed on this day.
Presidents Day – February 20, 2023
Presidents' Day is a federal holiday in the United States that honors the nation's presidents, especially George Washington, the first president of the United States. Many businesses and schools are closed on this day.
Memorial Day – May 29, 2023
Memorial Day is a U.S. federal holiday commemorating the men and women who died while serving in the U.S. military. It is celebrated on the last Monday of May and is a time to remember and honor those who gave their lives for their country.
Public holidays 2023: your complete guide
Independence Day – July 4, 2023: Celebrating American Freedom
As July 4 approaches, the American people prepare to celebrate their independence and freedom. This day marks the signing of the Declaration of Independence in 1776, marking the birth of the United States of America. July 4th is a national holiday in the United States, celebrated with parades, fireworks, and barbeques. In this article, we look at the history, meaning, and traditions of Independence Day, and how Americans celebrate this important day.
History of Independence Day
On July 4, 1776, the Continental Congress approved the Declaration of Independence declaring the 13 American colonies free from British rule. The document was written by Thomas Jefferson with input from John Adams and Benjamin Franklin. The Declaration of Independence was a bold and revolutionary statement declaring that all human beings are created equal and endowed with inalienable rights such as life, liberty and the pursuit of happiness.
The signing of the Declaration of Independence marked the beginning of the American Revolution, which lasted until 1783. The American colonists fought against the British army and navy and, with the help of the French army, achieved their independence.
Meaning of Independence Day
July 4th is an important day for all Americans as it celebrates their independence and freedom. This is a day of reflection on the sacrifices of the Founding Fathers and the men and women who fought for American freedom. This is a day of remembrance for the principles on which America was founded, such as democracy, equality and justice.
July 4th is also a day to celebrate American culture and identity. Americans are proud of their country and its achievements, and July 4th is a day to express that pride. It is a day when families and friends come together, enjoy each other's company and celebrate common values.
Independence Day Traditions
The 4th of July is celebrated with various traditions in the United States. One of the most common traditions is fireworks, which can be seen in cities and towns across the country. Fireworks have been part of the 4th of July celebration since the first anniversary of the Declaration of Independence in 1777.
Another popular tradition is the parade with marching bands, floats and other festive performances. The parade is a way for communities to come together and celebrate their patriotism and pride in their country.
July 4th is also BBQ and picnic day. Many families and friends get together to share a meal and enjoy the summer weather. The traditional 4th of July meal includes burgers, hot dogs, and fried chicken, along with side dishes such as potato salad, coleslaw, and baked beans.
Labor Day – September 4, 2023
Labor Day is a federal holiday in the United States that celebrates the contribution of workers to the economy. It is celebrated on the first Monday in September and is a time for rest, relaxation and spending time with family and friends.
Columbus Day – October 9, 2023
Columbus Day is a federal holiday in the United States commemorating the arrival of Christopher Columbus in America in 1492. It is celebrated on the second Monday of October and is a time dedicated to the history and culture of the country.
Veterans Day – November 11, 2023
Veterans Day is a federal holiday in the United States commemorating the men and women who served in the country's armed forces. This is a day to thank veterans for their service, attend parades and visit memorials.
Thanksgiving – November 23, 2023
Thanksgiving Day is a federal holiday in the United States, celebrated on the fourth Thursday of November. This is a day to give thanks for the blessings of the year and to spend time with family and friends. On this day, many also watch American football.
Christmas – December 25, 2023
Christmas is a religious and cultural holiday celebrated all over the world. This is the time when Christians celebrate the birth of Jesus Christ and non-Christians enjoy the holiday season. Many businesses and schools are closed on this day.
At the same time, many people also use this opportunity to plan trips or vacations with family and friends. If you're planning a trip during a public holiday, it's important to plan ahead to avoid rushing or last-minute disappointment.
In addition to planning your trip, you can also use the holidays to do something meaningful, like volunteer or take part in community events. This is a great way to give back to the community as well as connect with people who share similar interests and values.
NAUMKEAG PUMPKIN SHOW 2023
All About Naumkeag Pumpkin Show
Nights take on a special glow in October at Naumkeag, a community garden and historic home in Berkshire. The Trustees of Reservations hosts a month-long pumpkin show featuring over 1,000 elaborately carved pumpkins, many locally grown.
The pumpkin patch may be one of the most modest of Naumkeag's famously elegant gardens, but from October 1 until Halloween, the bright orange pumpkins that grow there take center stage, with hundreds of mothers and countless pumpkins playing secondary roles.
Billed as "The Incredible Naumkeag Pumpkin Show," the radiant exhibit includes intricate pumpkin displays featuring cats, cauldrons, witches, dragons, flora, fauna, sea creatures, ghosts, ghosts, and goblins seemingly everywhere you look. as you roam the winding paths. beautiful territory of the estate of the gilded age.
When you look at a seasonal look, you can't help but wonder, "Who's carving all these pumpkins?"
"We all do it," said Brian Crewey, director of the South Berkshire Trustees, in a recent Zoom interview. "Everything you see in the show is hand carved either by an employee or a volunteer." The pumpkin lives from a week to 10 days after being carved, so to keep the show going for a month, both real pumpkins and fake pumpkins are included in the mix for the Naumkeag Pumpkin show.
"We have about 1,000 fake pumpkins, and then every week we cut out about 250 real ones to put on the ground," Kroyi said. Amazingly realistic looking artificial pumpkins are made from Styrofoam for the Naumkeag Pumpkin show.
Although they can last several seasons, Naumkeag tries to increase the number of pumpkins and the size of the area they occupy on the site every year, so a new batch of artificial pumpkins is delivered every August for the wonderful Naumkeag Pumpkin show.
The arrival of a delivery truck indicates that it is time to start carving.
"People often think that we are buying artificial pumpkins already carved, but that's not the case," Crui said. "They say, 'Oh, you buy them like that. They are laser cut. And we say: "No, they come as a whole pumpkin, and we need to cut every single one."
As October rolls around, weekly woodcarving sessions are held to keep the pumpkin part of the show real. They have evolved into a community-wide effort with different groups taking turns working with stencils, trimmers, pokers and shovels.
"Every week we will have a group of volunteers, either a group of our volunteers for Naumkeag Pumpkin show or our corporate volunteers, for example, Berkshire Bank usually comes and spends the day, or the Montessori school comes for the day, or other schools in the area. come and do a lot for us," Kroyi said. "So it's a really fun attempt by the community to do all of that and keep doing it throughout the Naumkeag Pumpkin show."
Krui is always grateful for the ever-changing pool of volunteers, but because woodcarving skills vary so much, he usually outsources the carving of real pumpkins to temporary helpers and leaves the fake pumpkins to his more creative staff and volunteers for the long haul.
"Fakes will become part of our show collection in the future and are more expensive for us than real ones, which will rot in 10 days," he said. "We have some volunteer performers who will take some of the fake ones home and work really hard on them because they'll be part of the show for a longer period of time, so that's our quality control."
How do you come up with new carving concepts every year?
"This is also a group work," Croyi said. "We started at the beginning of the summer, reviewing the road layout for the show and adding new elements. We put a lot of pressure on ourselves to make it bigger and better every year. We're always trying to promote this creativity and think of new ways to make it really amazing, as the name suggests."
Some items that have proven to be public favorites are repeated every year. One exhibit that is always a hit is a mist-spewing cauldron mounted on a large number of gourds carved in various versions of the flame motif. "Kids love it, so we make sure to turn it on every year," Kroyi says.
Aside from these few favorites, Naumkeag Pumpkin show staff tries to mix things up a bit every year, whether it's adding a pumpkin section with a new theme, re-routing the show to get guests through a new part of the garden, or adding different lighting elements. "There are a lot of tricks we need to do to make sure every year feels new and fresh for people who want to come back and make it a tradition," he said.
Pumpkins decorate the stairs on the farm. Many pumpkins are grown on the territory for Naumkeag Pumpkin show.

Visitors can look forward to new events this year, including a Chinese garden pumpkin display and a re-routing that takes people through an orchard and pumpkin-adorned forest.
Something that will make a comeback this year is a timed ticket booking system for Naumkeag Pumpkin show. "That was one of the lessons we learned from COVID last year," Kroyi said. "Having tickets by the time not only made it safer, it also gave guests more enjoyment from fewer people while they made their way through the Naumkeag Pumpkin show."
Also this year, it is planned to include the inner parts of Naumkeag in the show, if the pandemic allows. "Last year we kept everything outside due to COVID and the restrictions in place," Kroyi said. "We hope that this year people will be able to see the house and look into it too. prepare autumn decorations and bring some pumpkins inside."
Naumkeag, a 44-room shingle-style house, was built in 1884 by Joseph Choate, a prominent New York lawyer and US ambassador to Britain, and his wife Caroline. It was designed as a summer retreat by renowned architectural firm McKim, Mead & White. The farm takes its name from the Algonquian word for Salem, where Joseph Choate was born. The house is located on a hilltop in Stockbridge with stunning views of the Housatonic Valley.
Charles and Caroline's daughter, Mabel Choate, inherited Naumkeag in 1929 and worked with landscape architect Fletcher Steel for the next 30 years to create the internationally recognized gardens, which are visited by over 11,000 people annually. Mabel Choate bequeathed Naumkieg in its entirety, including all home furnishings and art, to the Reservation Trustees, who opened the property to the public in 1959.
In addition to the autumn Naumkeag pumpkin show, this garden hosts a Christmas light show (Naumkeag Winter Lights) and a spring festival of tulips and daffodils every year. "In the summer, we really try to stay true to the nature of the property as a historic home and museum, sort of a snapshot of what life was like for the Chots when they lived here in the Gilded Age until 1959," Kroyi said. . "But during the season, we like to take some creative freedom with the garden to do fun things, interpret it in different ways and really make it something completely different and new that is fun for everyone."
Incredible Naumkeag Pumpkin show starts at 16:30. to 20:30 pm From Wednesday to Sunday from 1 to 31 October. Advance purchase of timed tickets is required (tickets will not be sold on the spot). Ticket information is available at www.thetrustees.org or by calling (413) 298-3239. Tickets go on sale in September and it is advisable to buy tickets in advance to avoid disappointment as the show sells out every year.