The New Hotspot for Indian Travellers Is This Destination in the UAE. You'll Never Guess Why!
A spectacular blend of unique attractions and luxurious hotels and resorts (that too without burning a hole in your pocket!) makes Sharjah a great getaway for a family or a group of friends. Once you start exploring the varied experiences on offer in Sharjah, you'll surely begin to wonder why you haven't visited this Emirate yet.
If you're someone for whom a holiday itinerary must have a range of experiences, Sharjah is the place for you. Whether you're on a ride in a 4×4 vehicle over the Emirate's majestic sand dunes or passing by a turtle as you snorkel in the sea, this 'shot of life' is addictive and all the more exciting when experienced in a new destination.
A location for family and friend groups alike, this destination is perfect for the rejuvenation you crave for on holiday! Kayaking, jet skiing and a range of desert sports you've probably never even heard of – your adventurer's quest awaits you in Sharjah!
Sharjah is the only Emirate in the UAE that's flanked by the Gulf of Oman and the Arabian Gulf Coast – a geographical virtue that highlights it from the other Emirates. It is also why Sharjah draws globetrotters with a flair for water sports and desert adventures alike.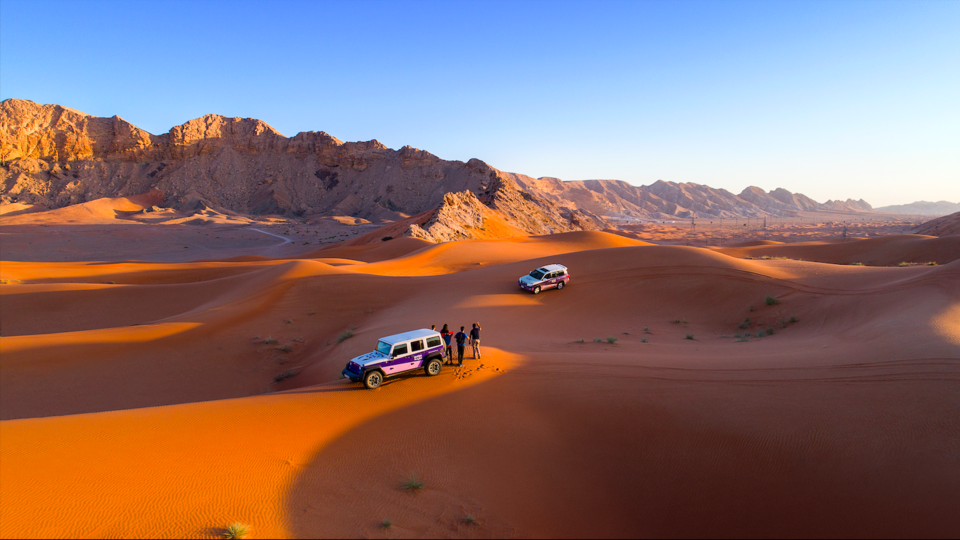 An ancient route used by Persian traders, Sharjah is filled with pre-Islamic history making it an ideal getaway for thrill seekers who also have an appetite for culture. Not mentioned in conversations as its contemporaries, Sharjah is slowly stealing the limelight from its more popular neighbours for its heady mix of luxury, lifestyle and intrigue-inducing locations. And here's why you need to book a trip right away!
Adventure comes in many forms in Sharjah
If your desire for new experiences is what propels you to new destinations that are also the best in adventure, then Sharjah's the place for you! One of the most stimulating experiences that you can have in Sharjah is exploring its desert activities. The rocky and sandy terrain of the Emirate features some of the best sand dunes that you can visit in all of the UAE. On a trip to Sharjah, don't forget to visit Fossil Rock and the Big Red – a mammoth sand dune that you can explore while manoeuvring 4×4 vehicles across the sandy terrain, an activity even kids can enjoy! It may not seem like it, but riding a quad bike or a dune buggy on this seemingly endless spread of desert is the most calming experience you can treat yourself to. For those not used to these high-paced action sequences, sand-skiing down a red dune or paragliding over the desert is ideal.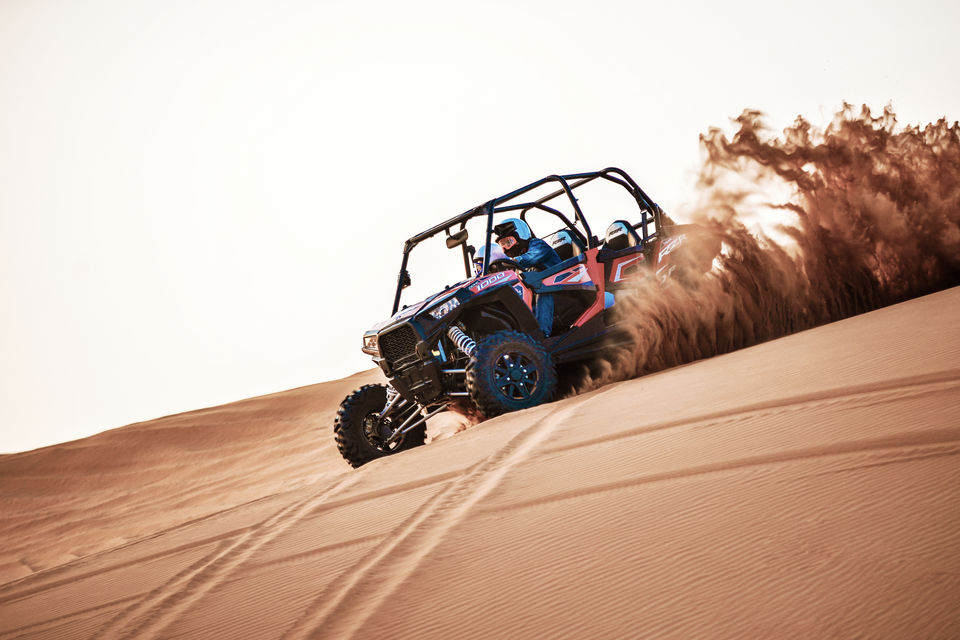 For an experience that is different from the ones described above, you can take off your shoes and jump right into the tranquil waters of Sharjah. Set off in your kayak and go exploring the many mangroves that dot Al Qurm Nature Reserve, a tropical haven where serenity prevails year-round. As you meander along in your kayak or stand-up paddle, the rush of adrenaline you sought in the dunes will be replaced by the soothing vibes of Al Qurm – a well-deserved reward for your physical efforts through the day.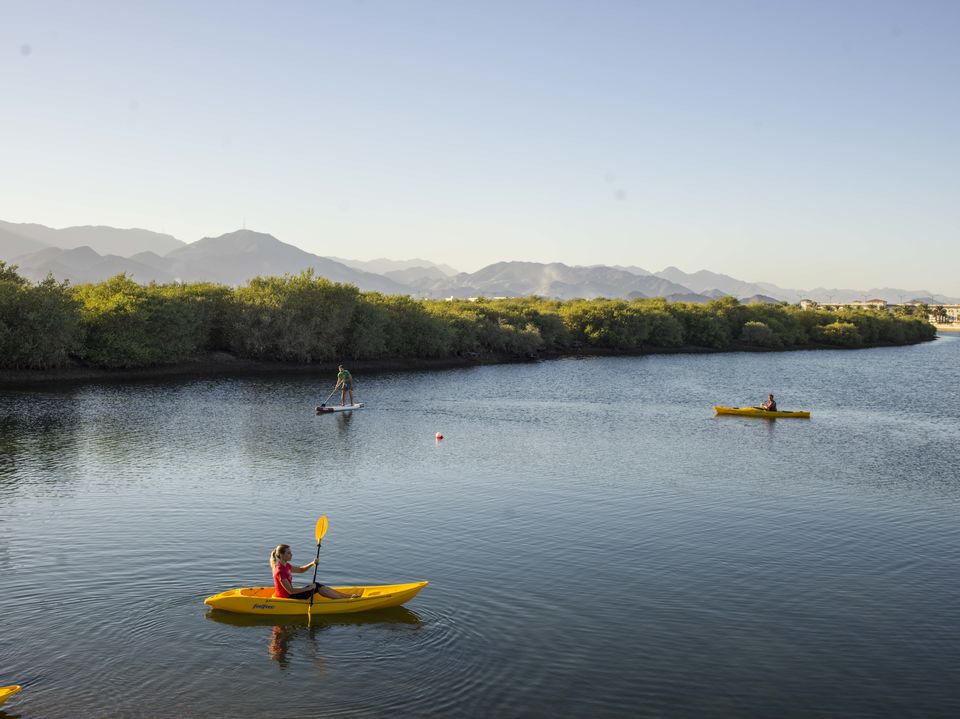 Complement your holiday with an enriching evening with Bedouins
Soak in the local culture at a camel race that draws spectators every Thursday and Friday to experience the Bedouin life special to the Emirate. The changing landscape of the desert introduces you to a new side of Sharjah every few strides, and the people of the desert are a significant part of its identity. To be among them for a short while will complete your experience in Sharjah.
Defining tourism is not a simple matter, as it is a complex industry made up of many different businesses, the common theme being that they provide products and services to tourists/visitors.
According to the United Nations World Tourism Organisation (UNWTO), tourism entails the movement of people to countries or places outside their usual environment for personal or business/professional purposes. These people are called visitors. Generally speaking, a visitor is classified as a (same-)day visitor if their trip does not include an overnight stay and a tourist if it does include an overnight stay. The purpose of their trip can be for business, leisure or personal reasons, other than to be employed by a resident entity in the country or place visited.
If a trip's main purpose is business/professional, it is often subdivided into two further categories – 'attending meetings, conferences or congresses, trade fairs and exhibitions' and 'other business and professional purposes'.
Types of tourism
There are three basic forms of tourism: domestic tourism, inbound tourism, and outbound tourism.
Domestic tourism refers to activities of a visitor within their country of residence and outside of their home (e.g. a Brit visiting other parts of Britain).
Inbound tourism refers to the activities of a visitor from outside of country of residence (e.g. a Spaniard visiting Britain).
Outbound tourism refers to the activities of a resident visitor outside of their country of residence (e.g. a Brit visiting an overseas country).
The tourism industry in Britain is primarily a private sector industry, consisting of around 200,000 businesses, some very large including international hotel groups and airlines, as well as small and medium sized businesses, industry groups and bodies.
Domestic tourism is the core of businesses revenue (generally at least 80%, particularly outside of London), with demand peaking during the school holidays, particular Easter and Summer. Dealing with the demands of international visitors requires specialist knowledge, cultural understanding and investment.
Most UK statistics separate spending and volume of day visitors from overnight tourists. VisitBritain's statistics and research reports focus on overseas visitors who come to Britain.
For domestic statistics (ie. data on people from within Britain who visit another location in Britain) get in touch with the tourism organisations for England, Scotland, Wales, Northern Ireland and London. 
What are tourism products?
'Tourism product' covers a number of different categories including:
Accommodation, i.e. hotels, bed & breakfasts, guest houses, self-catering/serviced apartments, camping, caravanning and home stay
Hospitality, i.e. food and beverage serving services, e.g. pubs, restaurants, cafes, private dining for groups/conferences
Transport services, e.g. rail, road, water, air networks and rental
Guided tours and tourist guides
Travel agencies and other reservation services, including tour operators and destination management companies (see travel trade section)
Cultural services, e.g. museums, attractions
Sports and recreational activities
Retail
The travel trade
It is useful to distinguish between trips which are booked directly and those which are booked via third parties such as the travel trade. The travel trade acts as an intermediary between visitors and tourism products. The travel trade has multiple purchasing power. One tour operator can make arrangements on behalf of hundreds of other people.
The growth of the internet means that more people are now booking their trips directly, either online or by phone after researching on the internet. However, the travel trade still plays a major role, particularly in longer-haul markets or where visitors have more complex travel arrangements.
The travel trade are likely to bring both individuals and groups to Britain. Take a look at our working with the travel trade section to find out more.
5 essential places to visit in Kyoto
This list of places to visit in Kyoto will help you prepare a trip to a city that has been able to combine its ancient culture and traditions with modernity in an incredibly harmonious way. Neighborhoods that preserve their traditional wooden buildings and teahouses, still hurriedly toured by maikos and geishas, ​​hundreds of incredible temples and shrines, beautiful gardens and grand palaces, make Kyoto a traveler's dream.
Although any time is perfect to visit Kyoto, all its wonders shine even brighter in spring with the cherry blossom or hanami, turning the entire city into an explosion of colors and smells, which make these months, without a doubt, the best Time to travel to Japan.
Another of its great attractions is its delicious gastronomy, in which eating dishes based on sushi, sashimi, tempura, ramen, Kobe beef, okonomiyaki, gyozas or miso soup, will make your palate enjoy the most.
We have to confess that for us Kyoto became our favorite city during the trip to Japan on our own that we did a few years ago. Such was our infatuation with the city that we returned to spend a month living in an apartment in the Gion neighborhood, during which time we wrote this guide to Kyoto .
So, based on our experience of the time we spent in the city, we have made this list of what we believe are the 10 essential places to see in Kyoto . 
1. Fushimi Inari Taisha
We can say that Fushimi Inari-taisha is our favorite temple and one of the essential places to visit in Kyoto .
This sanctuary built in the 8th century in honor of the goddess of rice, is famous for its thousands of red or orange toriis, which wind their way through the base of the Inari mountain and have been donated by individuals and companies so that the God Inari be favorable to them.
If you have time, we recommend taking a long walk through its 4 kilometers of toriis until you reach the highest part and we are sure, it will be one of the experiences you will remember from the trip.
It is also important to keep in mind that Fushimi Inari is one of the most visited shrines, so we recommend coming first thing in the morning if you want to see it or take photos with few people.
The sanctuary, located less than 4 kilometers south of the city, can even be reached on foot, although the most common way is with the JR Nara line train ( included in the JR Pass ), from Kyoto Station. The journey is about 8 minutes and the train will leave you practically in front of the sanctuary, so it is the best way to get here. We made the visit first thing in the morning, taking advantage of the train trip that would later take us to the city of Nara.
Another option to learn more about the history of the shrine is to book this tour that includes Fushimi Inari and Narawith guide in Spanish.
The temple is open 24 hours a day, so you can get up as early as you want to visit it.
2. Kinkaku-ji
Kinkaku-ji or the Golden Pavilion , is a Zen temple in which its pavilion covered with pure gold leaves or gold leaf stands out.
The temple, a World Heritage Site, was built in 1397, although the current structure is from 1955 since in 1950 a monk with altered mental faculties set it on fire, it has a beautiful pond in front called the Water Mirror and a Japanese garden, is one of the postcard images of Kyoto.
Located a bit far from the center, to the west of Kyoto, you can reach the temple in half an hour with buses 101 and 205 from Kyoto station.
3. Gion District
Gion, the famous neighborhood of the geishas, ​​is another of the most essential places to visit in Kyoto . Taking a stroll at sunset through its narrow streets and traditional Japanese-style wooden houses is one of the best things to do in Kyoto . If you are also lucky enough to come across a maiko or a geisha on the way to a tea house, we assure you that the experience will be complete.
In addition to walking around the neighborhood, we advise you to pay special attention to Hanamikoji street, full of restaurants and tea houses, which is a good place to see them when they go to work from 5:00 p.m. to 7:00 p.m. or when they leave work from 8:00 p.m. 10 p.m.
Geishas, ​​called Geiko in Kyoto, are performers of traditional Japanese arts such as the famous tea ceremony. During their formative years,
4. Kiyomizudera
Kiyomizu-dera, the temple of pure water , is one of the most touristic places in the former imperial capital of Japan. This temple, built in 778 on a hill to the east of Kyoto, is famous for its magnificent views of the city, the pagodas, the pavilions, the doors and the nature that surrounds it, which form a set of extreme beauty.
Kiyomizu-dera, like most famous Kyoto temples , is best visited first thing in the morning, before organized groups arrive.
To get to the temple you can take the 100 or 205 bus from Kyoto station and get off at the Kiyomizu-michi or Gojo-Zaka stops, keeping in mind that the final ascent to the temple is done on foot.
Visiting hours: every day from 6 a.m. to 6 p.m.
5. Arashiyama Bamboo Forest
Strolling among more than 50 varieties of bamboo perfectly aligned while you hear the whisper of the swaying of the trunks produced by the wind, we are sure that it will be another of the moments that you will remember from a trip to Japan .
This bamboo forest, a plant of great importance in Japanese and Oriental culture, has in Arashiyama specimens of more than 20 meters in height that delight the thousands of tourists who come here every day.
Although the normal thing is to come only once during the trip, we recommend, if you have time, to visit the forest at different times of the day, since due to the change of light and colors, each one of the experiences becomes unique.
The 5 best gifts for travel lovers
Best gifts for travel lovers? It is not the first time that you have asked us this question and the truth is, we have to confess that it is not something as easy to answer as it seems at first glance. And we have to keep in mind that travelers are not easy at all. We know that "the details are what count" , but if we add the word "travel" to that equation , we assure you that getting the best gifts will be a safe bet. Do you want to prove it?
1. Kindle, 6" touch screen
Without a doubt, one of the best travel companions is a book. What would become of us without them during flights, long waits and of course, in moments of relaxation.
And although most of us love the smell and feel of the paper book, on many occasions this is not the most practical thing to travel, since for a traveler, weight and space are essential.
Taking this into account and after our experience, we will tell you that the electronic book is one of the best gifts for travel lovers.
2. FlyKube, the best gift for travel lovers
There is no better gift for a traveler than a trip. We agree on that, right? And if this trip is also a surprise, we are sure that from that moment on, you will become the favorite person of the globetrotter in question.
With FlyKube you have 4 options to surprise your favorite traveler with the best gift , which includes surprise travel experiences around Europe from 99 euros with flights and accommodation.
surprise destination
With this option you only have to choose the month of the trip and 4 days beforehand they will confirm both the destination and the weekend of the trip.
Main features:
– You choose the dates but not the destination
– 3, 4 or 5 day trip –
Direct round trip flights
– 3 or 4 star central hotel
– Breakfast not included
– City guide
VipKube
With VipKube you can travel to an exclusive destination, staying in 5-star hotels, which include breakfast. Without a doubt, the best gift for the most demanding travelers.
Main features:
– You choose the dates but not the PREMIUM destination
– 3 or 4 day trip –
Direct round trip flights
– 5-star hotel
– Breakfast included
– Includes a surprise activity
– City guide
all surprise
The most surprising of all. Choose the month and you will travel to a destination and a surprise weekend.
Main features:
– Choose the month of the trip to enjoy a surprise weekend and destination
– Weekend trip
– Direct round trip flights
– Hotel or B&B accommodation
– Breakfast not included
– City guide
surprise summer
This option is one of our favorites. You can enjoy a surprise vacation in a beach destination such as Santorini, Mykonos or Sardinia among others.
Main features:
– Choose the dates and the beach destination will be a surprise
– 5 or 7 day trip –
Round trip flights
– 3 or 4 star hotel by the sea
– Breakfast not included
– City guide
3. Plug adapter, a must for a traveler
If there is something that must accompany a traveler, it is a plug adapter. Although there are many models on the market, it is best to look for one that is small and weighs little and that also works for most countries.
We bought this international adapter compatible with more than 150 countries in the world that has become our great travel companion .
If in doubt, the adapter is the best travel gift .
4.Campark Sports Camera 4K
Almost without realizing it, sports cameras have made their way into the top 10 of the best gifts for travelers .
Taking into account that the best-known brand of this type of camera is not exactly cheap, and much less for a travel detail , if you do not want to spend a lot of money, a great option is this action camera, with which you can record your videos in 4K Ultra HD at 30 frames per second and will capture images at 16 Megapixels.
5. Mobile battery, another of the best travel gifts
Today that we always travel with a mobile phone and use it a lot (sometimes too much), there is nothing better than having an extra battery in case at some point we go blank .
We take two for our trips, one that has 3 phone charges and a smaller one that has one and a half charges.
We are not going to deceive you. We use it almost daily.