The New Hotspot for Indian Travellers Is This Destination in the UAE. You'll Never Guess Why!
A spectacular blend of unique attractions and luxurious hotels and resorts (that too without burning a hole in your pocket!) makes Sharjah a great getaway for a family or a group of friends. Once you start exploring the varied experiences on offer in Sharjah, you'll surely begin to wonder why you haven't visited this Emirate yet.
If you're someone for whom a holiday itinerary must have a range of experiences, Sharjah is the place for you. Whether you're on a ride in a 4×4 vehicle over the Emirate's majestic sand dunes or passing by a turtle as you snorkel in the sea, this 'shot of life' is addictive and all the more exciting when experienced in a new destination.
A location for family and friend groups alike, this destination is perfect for the rejuvenation you crave for on holiday! Kayaking, jet skiing and a range of desert sports you've probably never even heard of – your adventurer's quest awaits you in Sharjah!
Sharjah is the only Emirate in the UAE that's flanked by the Gulf of Oman and the Arabian Gulf Coast – a geographical virtue that highlights it from the other Emirates. It is also why Sharjah draws globetrotters with a flair for water sports and desert adventures alike.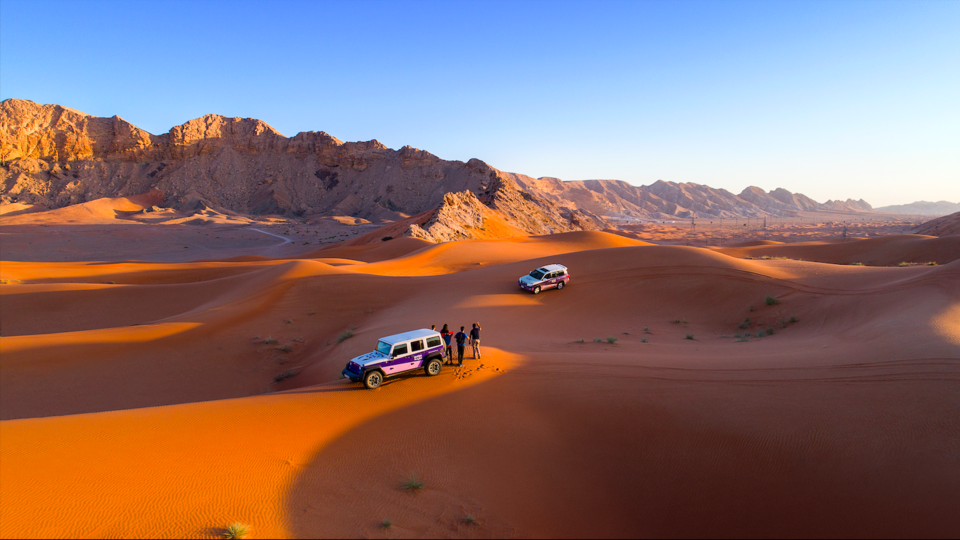 An ancient route used by Persian traders, Sharjah is filled with pre-Islamic history making it an ideal getaway for thrill seekers who also have an appetite for culture. Not mentioned in conversations as its contemporaries, Sharjah is slowly stealing the limelight from its more popular neighbours for its heady mix of luxury, lifestyle and intrigue-inducing locations. And here's why you need to book a trip right away!
Adventure comes in many forms in Sharjah
If your desire for new experiences is what propels you to new destinations that are also the best in adventure, then Sharjah's the place for you! One of the most stimulating experiences that you can have in Sharjah is exploring its desert activities. The rocky and sandy terrain of the Emirate features some of the best sand dunes that you can visit in all of the UAE. On a trip to Sharjah, don't forget to visit Fossil Rock and the Big Red – a mammoth sand dune that you can explore while manoeuvring 4×4 vehicles across the sandy terrain, an activity even kids can enjoy! It may not seem like it, but riding a quad bike or a dune buggy on this seemingly endless spread of desert is the most calming experience you can treat yourself to. For those not used to these high-paced action sequences, sand-skiing down a red dune or paragliding over the desert is ideal.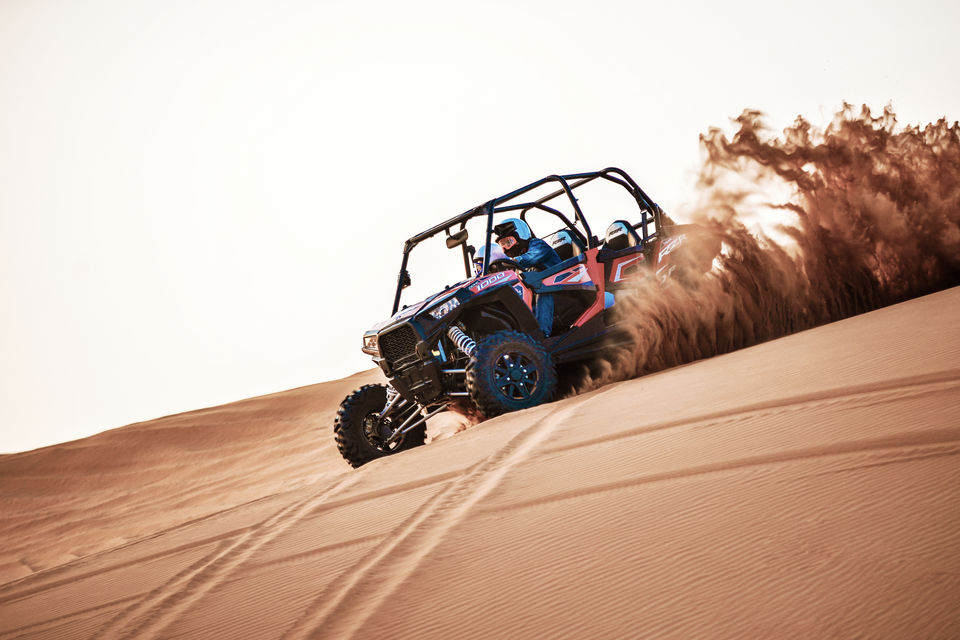 For an experience that is different from the ones described above, you can take off your shoes and jump right into the tranquil waters of Sharjah. Set off in your kayak and go exploring the many mangroves that dot Al Qurm Nature Reserve, a tropical haven where serenity prevails year-round. As you meander along in your kayak or stand-up paddle, the rush of adrenaline you sought in the dunes will be replaced by the soothing vibes of Al Qurm – a well-deserved reward for your physical efforts through the day.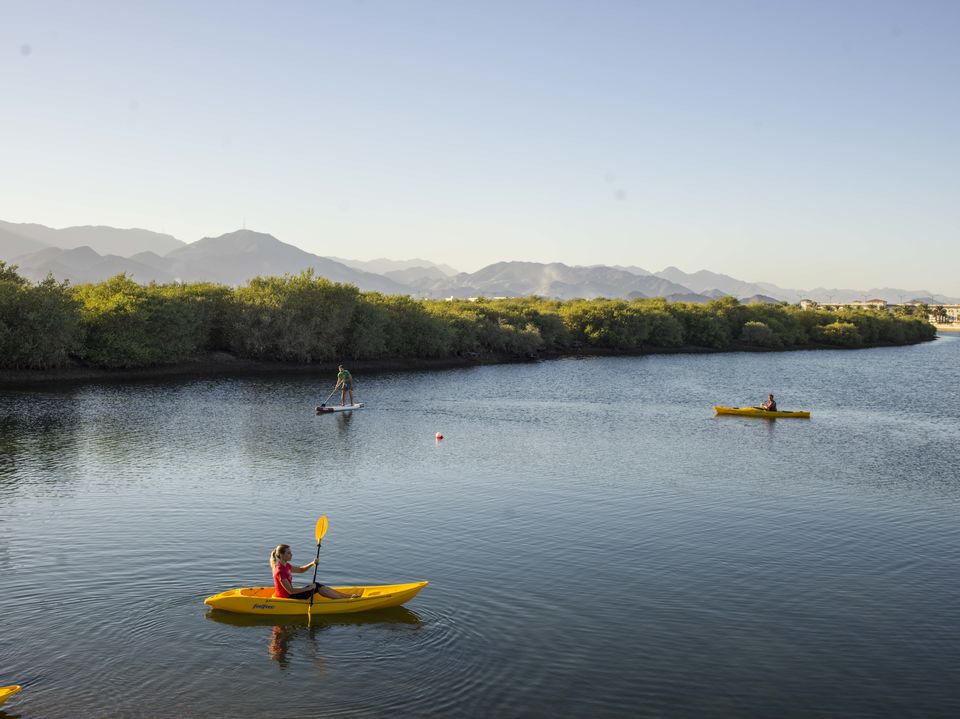 Complement your holiday with an enriching evening with Bedouins
Soak in the local culture at a camel race that draws spectators every Thursday and Friday to experience the Bedouin life special to the Emirate. The changing landscape of the desert introduces you to a new side of Sharjah every few strides, and the people of the desert are a significant part of its identity. To be among them for a short while will complete your experience in Sharjah.
Breaking Travel News interview
Situated in an exceedingly privileged position within the capital of Azerbaijani Republic, Four Seasons building Baku may be a must-visit location during this apace developing town. Here Breaking Travel News speaks to Bob Suri, head of the property, to search out out additional.
Breaking Travel News:
May be we tend to might begin with an outline of the building – what's on provide there to guests during this spirited destination? Baku may be a associate degree evolving and a awfully distinctive destination that became the host town to world category events just like the Formula One car race, the primary European Olympic Games, UEFA Galilean League Final and Euro2020, furthermore as and similar sports events, at the side of music festivals like Zhara Music pageant. As the world's leading luxury whole, we tend to take loads of pride in representing the Four Seasons whole during this lovely and spirited destination that has tremendous prospects. Our presence during this location positively represents the appetence for luxury section. The beautiful building is found on the promenade and on the shores of the Caspian Sea within the capital of Azerbaijani Republic, Baku. We offer the city's finest accommodations in our 171 rooms and suites; whereas there's conjointly the Italian eating place, Zafferano, square lounge and Bentley's hard drink Bar. The exclusive territory of the Jaleh Spa & Pool, lavish meeting areas and, of course, the signature service of 4 Seasons Hotels & Resorts completes the providing. We with pride stand by the four main pillars that have helped develop the distinctive approach that Four Seasons has towards their guests – quality, service, culture and whole. Our purpose of making impressions that may stick with the guests for a period comes from our belief that life is richer after we really 'connect' to the folks and world around United States.
Who visits the Four Seasons building Baku
The key supply markets for the property for the past 5 years and pre-pandemic times were Gulf Countries – together with the UAE and Qatar, followed by Asian nation and Kuwait. They set-aside in the main for leisure travel, whereas we tend to saw Russian bookings each for leisure and business functions. During pandemic we've discovered a small amount of a modification within the key supply markets; wherever UAE, Qatar and Russia stay in high 5 markets, although with lower volumes considering the worldwide pandemic, Turkey currently leads the list. After the success the country has gained with the ending in II Karabakh War in Gregorian calendar month 2020, the govt has started developing the lands at associate degree accelerated pace, and this has inspired movements from countries collaborating within the renovation efforts. One of these countries is Turkey , wherever business travellers actively began to travel from because of the involvement in these comes. Taking into thought the prime location of the building right within the heart of the town centre and shut proximity to the looking and business centres, the building is ideal each for leisure and business travellers. The facilities we offer will meet all guests' expectations. Living within the new traditional setting, we tend to at Four Seasons Hotels & Resorts company, have conjointly enforced a 'Work at Leisure' idea globally to supply business travellers all the support ought to they like keep|to remain} within the town for extended however stay connected to figure from the comfort of their rooms.
You joined Four Seasons building Baku in 2019 – simply before the Covid-19 pandemic
The health and safety of our guests and staff have forever been at front and centre for our company. To offer a secure setting for them, Four Seasons Hotels & Resorts across the world have enforced the 'Lead With Care' programme, a complete health and safety sweetening that we've developed in consulting agreement with Johns Hopkins drugs. While the Four Seasons expertise could look completely different, it still feels a similar.Our dedicated people are committed to delivering the same intuitive service and personalised care for which Four Seasons is known and trusted the world over.
We are blessed to have our ownership aligned with the beliefs of the Four Seasons Hotels & Resorts, where putting people first is a priority and we have had their support throughout the pandemic, so far.
The authorities in Azerbaijan developed innovative program called SAHMAN.
This is a nationwide campaign set to transform Azerbaijan's existing health, safety and hygiene standards.
Supported by the UNWTO, it also reaffirms the country's commitment towards providing a world-class tourism destination for its citizens and future visitors alike in the post-pandemic world.
The programme guidelines continue to evolve since the launch date, based on recommendations and regulations set by the World Health Organisation (WHO), whose agenda includes adapting best-in-class practices across global industry players.
Most lovely Places in West Pakistan – From Mountains to Mosques
It's arduous to imagine a additional brilliant landscape than the rugged peaks, hidden villages and wind-swept plains of West Pakistan. Here square measure four of the foremost lovely places in West Pakistan, from wild mountain passes and unreal lakes, to ornate mosques and ancient fortresses.
Western media would possibly attempt to tell you otherwise, however trust Maine – West Pakistan is associate degree completely beautiful country. suppose celebrated mountain peaks, emerald-green and turquoise-blue valleys, deserts crammed with remnants of ancient civilization… And that's not even the half it.
One thing's for certain: West Pakistan sure isn't lacking in lovely places to visit!
1. SWAT VALLY
Though it's had a rough past, the current and way forward for Swat vale square measure shining terribly bright. This beautiful vale within the Khyber Pakhtunkhwa province of West Pakistan are some things straight out of a fairy tale.
Think bright inexperienced fields and forests, picturesque villages, and rivers self-praise reminder blue thus clear and bright you wouldn't have thought them real!
The true fantastic thing about Swat are often found round the city of Kalam, that is a base to the explore the wonder of the vale. Here square measure three places you can't miss in Swat Valley:
Boyun Village
Boyun, additionally referred to as inexperienced prime, may be a short drive or manageable up-hill walk from Kalam city. once you finally reached the top, you'll be rewarded with a panorama of 1 of the foremost Brobdingnagian and exquisite villages I've ever seen – along side sweeping views of the vale below. Boyun is a simple tour from Kalam.
Swat vale – will it get to any extent further picturesque than this!?
Kandol and Spindhor Lakes
These alpine lakes lie two hours aloof from Kalam. These days, Kandol Lake may be accessible via car track and is a bit additional commercialized, whereas Spindhor will solely be reached on a 2-hour trek. Whichever you select to go to, each square measure completely counted among the foremost lovely places in West Pakistan.
Ushu Forest
This healthy forest is filled with deodar cedar trees and may be a fabulous place to urge lost. The road that leads into the forest continues on to many villages set on the Kalam stream.
2. HUNZA VALLY
If you reside in West Pakistan – or have scan something concerning the country – it's nearly bound you've come upon the name Hunza. Don't let the word 'valley' confuse you, although – Hunza is really a vast district created of varied valleys and villages. One a part of the traditional trade route, here square measure a number of the foremost lovely sights in Hunza:
Passu Cones
The Passu Cathedral may be a natural work of art and one amongst the foremost identifiable scenes in West Pakistan. although staying nightlong in Passu village is not any longer allowed, the cones square measure visible from a ways that away, ranging from the village of Gulmit. the foremost picture read of the Cathedral is from the mountain range route, concerning associate degree hour's drive from Gilgit town.
Pakistan's Passu Cones in fall.
Attabad Lake
A lake that doesn't look real… Even once you're standing right ahead of it. Attabad was born out of tragedy once a vast landslide occurred in 2010. The flow of the Hunza stream was blocked, and therefore the now-famous lake was created in its wake. Its bright-blue turquoise waters build the it one amongst the foremost lovely places in West Pakistan.
Eagle's Nest
Want to check one amongst the foremost epic sunsets within the Hunza Valley? Head to Eagle's Nest around golden hour! The name comes from an expensive hotel/restaurant near , however you'll be able to come near to the perspective while not going there.
3. YARKHUN VALLY
Though it's comparatively unprecedented and forgotten compared to Pakistan's most celebrated holidaymaker spots, i believe Yarkhun vale was the foremost lovely place I visited within the country. placed within the higher Chitral district of Khyber Pakhtunkhwa, Yarkhun dazzles with its mountain ranges and untouched villages.
Reaching the vale, that stretches for several kilometres past the executive city of Mastuj, needs a touch of effort if you don't have your own vehicle. If you are doing have one although, the ride isn't unfortunate – simply indurate principally dirt roads!
The facet vale of Gazin is most undoubtedly value a detour if you create it all the thanks to Yarkhun. Here, you'll be able to see the mountains of the Thoi Pass, a high-altitude pass that connects higher Chitral with Yasin vale in Gilgit Baltistan.
4. PHANDER LAKE
Phander Lake.
Phander Lake, placed in Phander Village, is nearly too sensible to be true. The teal-coloured lake sits wordlessly amongst greenish trees appropriate a landscape.
Despite being insanely lovely, Phander Lake willn't see anyplace as about to the quantity of tourists because the additional well-liked Attabad Lake does.
Phander vale.
During the four days I spent in Phander reposeful shore, I didn't encounter the other tourists. If you are doing visit, I extremely suggest you occupy the Lake lodge, that may be a short go forth and charges one,000 rupees per night. There is additionally the dearly-won (5,000 rupees) PTDC that overlooks the lake, however the welcome and price at Lake lodge reign supe
Meet the lady WHO Helped Set a Speed Record on a Classic Alpine Ski Route
What was your 1st expertise on the Haute Route? I 1st did it in 2000, after I was a educatee, and once more in 2002, with my husband, Laurent, tho' he wasn't my husband nonetheless. we tend to did it within the wrong way that point, Zermatt to Chamonix, and that we need to recognize one another on the means. i used to be doing associate billet as a doctor with the military at the time, and that we met once he was a high mountain guide for the military.
When did you initially get the concept that you just wished to undertake to line a women's speed record on the route? My husband 1st tried to line the men's record in 2008, however he was exhausted and had to prevent. Then in 2009, the weather was terribly dangerous, and also the whole team quit. In 2010, they finally set the record. i used to be associate assistant on every of these tries. I wished to try to to it, however I didn't essentially assume I had the talents, as a result of on behalf of me, those guys were heroes. They were terribly, terribly robust and that they were men. No girl had done that. it absolutely was once Laurent's death that i actually developed this need to try to to one thing in his memory, and that i knew that setting a record on the Haute Route would be the foremost lovely tribute I might do for him. however I doubted my ability to realize it, therefore time passed and that i didn't choose it. then again I finally got the spark I required after I started coaching with Hillary.
So however did you and Ms. Gerardi team up?
It was Gregorian calendar month or March 2019, and that we each did a one,000-meter vertical skiing race. Hillary won, and that i came in second.mountain knew that I had this concept however that I doubted my talents, therefore he told me: "That's precisely the person you wish to create an excellent team." Hillary is regarding ten years younger than ME, and that i assume that age distinction means that she doesn't doubt her talents the means I do. Now, I see ladies 0.5 my age WHO very believe that ladies will build a mark and set their own records. There's a cultural distinction too — Americans have a awfully positive character, perpetually expression, "That's amazing! sensible job!" whereas we tend to French area unit additional like: "OK, you may have done that higher." Hillary may be a path runner, therefore she has nice endurance. She's additionally terribly versatile within the mountains, terribly positive and really determined. Once i buy into it, I'm determined, too, however I hesitate to begin. therefore I don't recognize if i'd have ever set this record if I hadn't met her.
You set the women's record on the route in April 2021.
however did the day go? We left from the church in Chamonix at two p.m. and that we fell upon the church in Zermatt at 4:21 p.m. future day, that was Easter Day. There wasn't an enormous crowd waiting, simply some family and friends. The snow conditions had deteriorated a small amount over the previous week, therefore we tend to were a bit uncertain that we'd build it, that is why we tend to hadn't alerted too many folks. once we arrived in Zermatt, nobody was very fascinated by these 2 exhausted ladies WHO were crying their eyes out and throwing themselves into the arms of the few those that were waiting.
And what did it desire to create it to Zermatt?
It was quite a volcano of emotions. i used to be exhausted and then alleviated to possess finished. i used to be additionally terribly captive as a result of i noticed that I had done it: I had created the tribute to my husband. I had done as he had done. I had succeeded in connecting Chamonix to Zermatt on my skis and while not help. therefore there was a private pride, and additionally powerful thoughts of Laurent. simply once his death, I had the impression that he was with ME everyplace, that he was look over ME. It's due to him that I'm doing this sport. You live in Chamonix currently, however you didn't develop within the Alps.
What Drew you to it a part of France?
Until the age of seventeen, I lived within the space around Paris, however as a toddler I perpetually wished to measure within the mountains. after I was ten, I had a full cousin WHO got married in Chamonix, and whereas we tend to were there, my father and that i took the carry up to the Aiguille du Midi, and that i was simply surprised and thought, "I would like to live here." Later, after I was a educatee in Bordeaux, I created plenty of journeys to the range of mountains, then I did associate billet in Chamonix in 2001 and 2002, after I met Laurent. Later, i used to be able to do some mountain diplomas, that allowed ME to urge an edge concomitant the mountaineers of the military high mountain cluster. Living within the mountains has perpetually been one thing within ME, and also the coaching I've had has allowed ME to return here and keep.