Sandy Paradises: The Top 10 Beach Vacation Ideas for Sun Seekers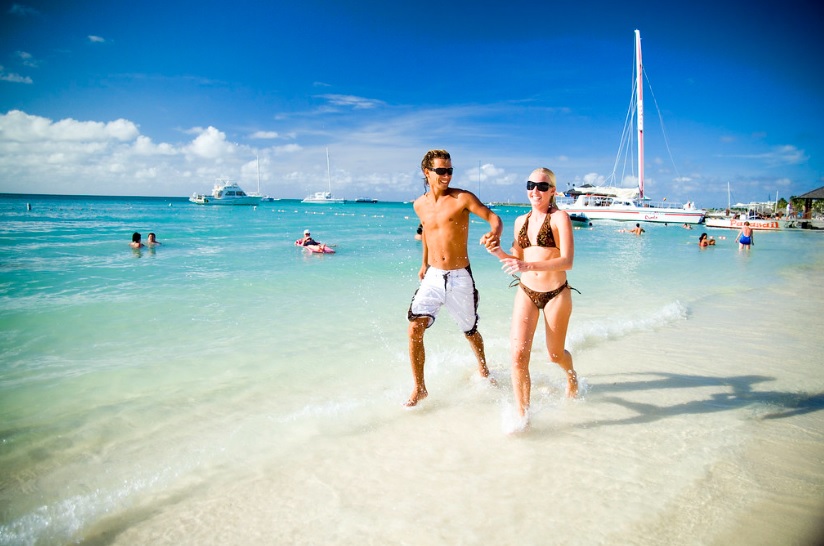 Welcome to the ultimate guide for sun seekers in search of sandy paradises. In this article, we will unveil the top 10 beach vacation ideas that will transport you to blissful coastal havens around the world.
From the breathtaking shores of Maui to the vibrant energy of Miami Beach, we have curated a list of destinations that offer the perfect combination of sun, surf, and relaxation. Join us as we explore these idyllic locations, providing you with the freedom to choose your next sun-soaked escape.
Maui
Maui offers sun-seeking vacationers a multitude of pristine beaches and crystal-clear waters to enjoy. With its stunning coastline and breathtaking views, it's no wonder that Maui is a top destination for beach lovers. From luxurious beach resorts to a wide range of beach activities, there is something for everyone on this Hawaiian island.
Maui is home to some of the most luxurious beach resorts in the world. Whether you're looking for a romantic getaway or a family-friendly vacation, you'll find a resort that suits your needs. From private villas with stunning ocean views to all-inclusive resorts with world-class amenities, Maui has it all.
When it comes to beach activities, Maui offers an abundance of options. You can snorkel in the crystal-clear waters, surf the legendary waves, or simply relax on the soft sand. For the more adventurous, there are opportunities for kayaking, paddleboarding, and even whale watching.
No matter how you choose to spend your time on Maui's beaches, one thing is for certain: you'll be surrounded by natural beauty and a sense of freedom. So pack your sunscreen and get ready to experience the paradise that is Maui.
Myrtle Beach
Located on the east coast of the United States, Myrtle Beach offers sun-seeking vacationers a vibrant coastal experience with its wide sandy beaches and an array of entertainment options.
With its warm climate and crystal-clear waters, Myrtle Beach is a haven for water sports enthusiasts. Whether it's surfing the waves, jet skiing, or parasailing, there are plenty of opportunities to get your adrenaline pumping.
For those looking for a more laid-back experience, Myrtle Beach also boasts a variety of family-friendly attractions. From amusement parks to mini-golf courses, there is something for everyone to enjoy. Families can spend their days building sandcastles on the beach, exploring the local wildlife at the aquarium, or indulging in delicious seafood at the waterfront restaurants.
With its endless activities and welcoming atmosphere, Myrtle Beach is the perfect destination for those seeking sun, fun, and freedom.
Clearwater Beach
Nestled along the Gulf of Mexico, Clearwater Beach is a sun-soaked paradise known for its stunning white sand and crystal clear waters.
The beach offers a vibrant atmosphere, with beachgoers enjoying activities like sunbathing, swimming, and beach volleyball.
Whether you're looking to relax under the warm Florida sun or engage in water sports, Clearwater Beach is the perfect destination for sun seekers seeking a beach vacation filled with natural beauty and lively beach vibes.
Stunning White Sand
What makes Clearwater Beach stand out among other beaches for its stunning white sand?
Clearwater Beach is renowned for its pristine, powdery white sand that stretches for miles, inviting visitors to sink their toes into its softness. The beach's unique composition of quartz crystals gives it a sparkling appearance, reflecting the sunlight and creating a mesmerizing sight.
The white sand not only adds to the beach's aesthetic appeal, but it also serves a practical purpose by remaining cool even on the hottest days, offering a comfortable surface for lounging or playing beach games.
Clearwater Beach provides stunning sunset views, where vibrant hues of orange, pink, and purple spread across the sky, painting a picturesque backdrop for romantic moments.
With beachfront resorts dotting the coastline, visitors can enjoy luxurious accommodations just steps away from the breathtaking white sand and the soothing sound of the waves.
Crystal Clear Waters
Clearwater Beach boasts crystal clear waters that are a delight for sun seekers. The pristine, transparent waters at Clearwater Beach offer a dreamy paradise for those seeking a beach vacation.
The crystal clear water activities are plentiful, making it the best beach for snorkeling. Dive into the turquoise depths and discover a world teeming with vibrant marine life. Snorkelers will be enchanted by the clarity of the water, allowing them to observe colorful fish, graceful sea turtles, and even the occasional dolphin. The underwater visibility is unparalleled, creating a truly immersive experience.
Whether you are a seasoned snorkeler or a beginner, Clearwater Beach offers a unique opportunity to explore the underwater wonders. So grab your snorkel gear and dive into the crystal clear waters of Clearwater Beach for an unforgettable adventure.
Vibrant Beach Atmosphere
With its lively and bustling beachfront, Clearwater Beach offers sun seekers a vibrant atmosphere that is sure to enhance their beach vacation experience. This popular destination is renowned for its vibrant beach culture and exciting entertainment options.
Here are some reasons why Clearwater Beach stands out among other beach destinations:
Beachside Festivals: Clearwater Beach hosts a variety of lively festivals throughout the year, showcasing local art, music, and food. From the Clearwater Jazz Holiday to the Sugar Sand Festival, there is always something happening to keep visitors entertained.
Thriving Nightlife: As the sun sets, the beach transforms into a hub of activity with numerous bars, clubs, and live music venues. Whether you want to dance the night away or enjoy a relaxing cocktail by the water, Clearwater Beach has plenty of options to suit every taste.
In Clearwater Beach, the vibrant beach culture and beachside entertainment options create an atmosphere that allows visitors to fully immerse themselves in the freedom and enjoyment of a beach vacation.
Santa Monica
Santa Monica offers visitors a vibrant beach experience with its iconic pier attractions and dining options. From roller coasters and ferris wheels to live entertainment and delicious seafood, there is something for everyone to enjoy.
With beachfront accommodations available, visitors can wake up to the sound of crashing waves and spend their days exploring the beautiful sandy shores.
The area is also ideal for outdoor activities, such as biking, jogging, and beach volleyball, making it a perfect destination for those who love to stay active while soaking up the sun.
Pier Attractions and Dining
Located in Southern California, this iconic beach destination offers a variety of pier attractions and dining options for visitors to enjoy.
Santa Monica Pier is a must-visit spot, featuring a range of exciting activities and entertainment for all ages. As you stroll along the pier, you'll encounter thrilling rides like the Pacific Wheel, a Ferris wheel offering breathtaking views of the coastline. Take a spin on the historic carousel or test your skills at the numerous arcade games.
When it's time to refuel, Santa Monica Pier boasts an array of waterfront dining options. Whether you're craving fresh seafood, delicious burgers, or international cuisine, there's something to satisfy every palate. From casual beachfront cafes to upscale restaurants with ocean views, Santa Monica Pier has it all.
Don't miss the chance to indulge in a delectable meal while enjoying the beautiful seaside ambiance.
Pier Attractions:
Pacific Wheel
Historic Carousel
Arcade Games
Waterfront Dining:
Fresh Seafood
Delicious Burgers
International Cuisine
Beachfront Accommodations Available
The beachfront accommodations in Santa Monica offer a range of options for visitors seeking a comfortable and luxurious stay along the iconic coastline.
From beachfront resorts to oceanfront villas, there is something for every type of traveler. Imagine waking up to the sound of crashing waves and stepping out onto your private balcony to take in the breathtaking ocean views. These accommodations provide the perfect setting for relaxation and rejuvenation.
Whether you prefer a cozy bungalow or a spacious suite, Santa Monica has it all. The beachfront resorts offer amenities such as private beach access, infinity pools, and world-class spas, ensuring that your stay is nothing short of extraordinary.
The oceanfront villas provide a more intimate experience, with direct access to the beach and personalized service. Whichever option you choose, you are guaranteed a memorable and blissful beachfront getaway.
Ideal for Outdoor Activities
With an array of beachfront accommodations available, Santa Monica is an ideal destination for outdoor enthusiasts seeking a range of activities to enjoy along its iconic coastline. From thrilling outdoor adventure activities to exciting water sports opportunities, there is something for everyone in Santa Monica. Here are some of the top outdoor activities you can indulge in:
Hiking and Biking: Explore the picturesque Santa Monica Mountains on numerous hiking and biking trails, offering stunning views of the city and the ocean.
Surfing and Stand-Up Paddleboarding: Catch some waves or try your hand at stand-up paddleboarding, making the most of the perfect waves and warm waters of Santa Monica.
Beach Volleyball: Join a game of beach volleyball with friends or challenge strangers to a match on the golden sandy beaches of Santa Monica.
Kayaking and Sailing: Take to the water and enjoy the calmness of the Pacific Ocean while kayaking or sailing, experiencing the beauty of Santa Monica from a different perspective.
Santa Monica truly offers a paradise for outdoor enthusiasts, where you can embrace the freedom of the outdoors and create unforgettable memories.
Miami Beach
Miami Beach offers a vibrant and luxurious coastal getaway for sun-seeking vacationers. With its stunning beaches, crystal-clear waters, and lively atmosphere, this destination is perfect for those looking for a combination of relaxation and excitement.
When the sun sets, Miami Beach's nightlife comes alive, offering a plethora of clubs, bars, and restaurants where visitors can dance the night away or enjoy delicious cocktails by the beach.
Additionally, water sports enthusiasts will find plenty of activities to indulge in, including jet skiing, paddleboarding, and parasailing. The warm and inviting waters of Miami Beach provide the perfect playground for those seeking adventure and adrenaline.
Whether you prefer to unwind on the sandy shores or dive into thrilling water sports, Miami Beach has everything you need for an unforgettable beach vacation.
Waikiki
One of the top beach vacation destinations for sun seekers is Waikiki. Located on the island of Oahu in Hawaii, Waikiki Beach is a true paradise for those craving sun, sand, and surf. With its pristine white sands and crystal-clear turquoise waters, Waikiki Beach offers a stunning backdrop for relaxation and adventure.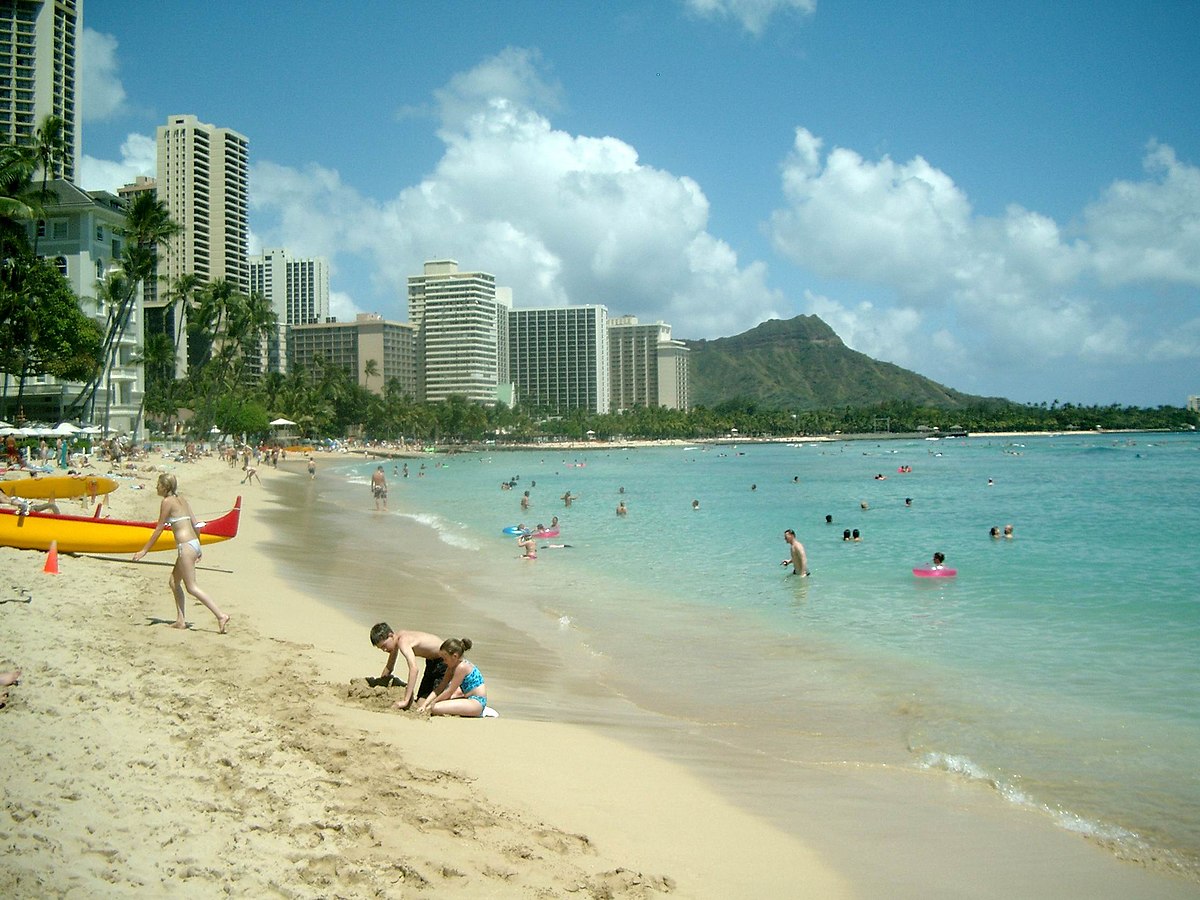 For those looking to catch some waves, Waikiki Beach is the perfect place to take surfing lessons. With its gentle waves and warm waters, beginners can learn the art of riding the waves while enjoying the freedom of the ocean.
Here are two reasons why Waikiki is a must-visit beach destination:
Nestled against the iconic Diamond Head volcano, Waikiki Beach offers breathtaking views that will leave you in awe.
The vibrant beachfront is lined with luxury resorts, world-class restaurants, and high-end shops, providing a perfect blend of relaxation and indulgence.
In Waikiki, every moment is an opportunity to embrace the freedom and beauty of the sun-kissed beach.
Bondi Beach
Bondi Beach's stunning coastline and vibrant atmosphere make it a top choice for sun-seeking vacationers. Located in Sydney, Australia, Bondi Beach is renowned for its golden sands, crystal-clear waters, and lively beach culture.
This iconic beach offers a range of activities for visitors to enjoy. Beach volleyball tournaments are a common sight, with locals and tourists competing in friendly matches on the sand. Surfing competitions are also held regularly, attracting skilled surfers from around the world. Whether you're a seasoned pro or a beginner looking to catch your first wave, Bondi Beach offers ideal conditions for surfing.
With its energetic vibe, stunning views, and exciting events, Bondi Beach is the ultimate destination for those seeking sun, sand, and a sense of freedom.
Copacabana
Located in Rio de Janeiro, Brazil, Copacabana is a beach that seamlessly blends natural beauty with a vibrant beach culture, making it a must-visit destination for sun-seeking vacationers.
With its pristine white sand stretching for 2.5 miles along the Atlantic Ocean, Copacabana offers a picturesque setting for relaxation and leisure.
But its appeal doesn't end there. The beach is renowned for its vibrant nightlife, with bars, clubs, and live music venues lining the streets. Visitors can dance the night away to the rhythmic beats of samba and experience the lively energy that fills the air.
Moreover, Copacabana is a haven for food enthusiasts, as it offers a diverse range of local cuisine. From traditional Brazilian dishes to international flavors, there is something to satisfy every palate.
Whether you're looking to party until dawn or indulge in delicious culinary delights, Copacabana guarantees an unforgettable beach vacation experience.
Boracay
Continuing the exploration of sun-soaked destinations, Boracay stands out as a tropical paradise that captivates beach lovers with its pristine shores and vibrant atmosphere. Situated in the Philippines, Boracay is renowned for its powdery white sand and crystal-clear turquoise waters.
This idyllic island offers a wide range of water sports activities, making it a haven for adventure enthusiasts. Whether you're a seasoned surfer or a beginner looking to try your hand at windsurfing or kiteboarding, Boracay has something for everyone. Snorkeling and scuba diving are also popular here, allowing you to discover the stunning underwater world teeming with vibrant marine life.
After a day of exhilarating activities, unwind and indulge in the local cuisine at one of the beachfront restaurants, or simply lounge on the shore, soaking up the tropical ambiance. Boracay truly offers a paradise-like experience that will leave you feeling refreshed and rejuvenated.
Ibiza
Known as the party capital of the world, Ibiza is a vibrant and energetic destination that offers an unparalleled nightlife experience. With its iconic nightclubs and beach parties, it is a hotspot for those seeking a thrilling and unforgettable time.
In addition to its legendary nightlife, Ibiza is also home to some of the world's top beach clubs. Visitors can relax on luxurious sunbeds, sip cocktails, and enjoy live music while soaking up the sun.
Ibiza Nightlife Hotspots
Ibiza's vibrant nightlife scene consistently attracts party-goers from around the world. Known as the party capital of the world, this beautiful Spanish island offers an unparalleled experience for those seeking a wild and unforgettable night out.
When it comes to Ibiza nightlife, the best beach parties are a must-visit. Here are two top hotspots to check out:
Ushuaïa Ibiza Beach Hotel: This iconic venue is famous for its open-air parties and world-class DJs. Located right on the beach, Ushuaïa offers an electrifying atmosphere where you can dance under the stars and soak up the energetic vibes.
Amnesia: Another legendary club in Ibiza, Amnesia is renowned for its mind-blowing sound system and immersive light shows. With two massive dance floors and a diverse lineup of international DJs, this venue guarantees an unforgettable night of non-stop dancing.
Whether you're into EDM, house, techno, or any other genre, Ibiza's nightlife scene has something for everyone. Get ready to let loose and dance the night away in these unforgettable beach party destinations.
Top Beach Clubs
To delve deeper into Ibiza's vibrant nightlife scene, we now shift our focus to the top beach clubs that make this Spanish island a haven for party enthusiasts.
Ibiza is renowned for its incredible beach parties, and the beach clubs here are at the heart of the action. One of the most famous beach clubs in Ibiza is Ushuaïa Ibiza Beach Hotel. With its stunning poolside stage, this beach club hosts some of the world's best DJs, creating an electrifying atmosphere that keeps the party going all night long.
Another popular spot is Nikki Beach Ibiza, known for its luxurious setting and glamorous beach parties.
Beach volleyball enthusiasts can head to Bora Bora beach, where they can enjoy the sport during the day and dance the night away at the lively beach clubs.
Ibiza's top beach clubs offer a unique and unforgettable experience for those seeking freedom, fun, and excitement.
Frequently Asked Questions
What Are the Best Activities to Do in Maui Besides Going to the Beach?
In addition to enjoying the beautiful beaches, Maui offers a variety of activities for sun seekers. Explore the island's numerous hiking trails, which provide breathtaking views of the landscape. Indulge in the local cuisine, experiencing the flavors of Hawaii.
Are There Any Budget-Friendly Accommodations Available in Myrtle Beach?
Budget-friendly hotels are available in Myrtle Beach, offering a range of accommodations that cater to the needs of sun seekers on a tight budget. These hotels provide easy access to the area's stunning beaches and popular attractions.
Is It Safe to Swim in the Waters of Clearwater Beach?
When considering a beach destination like Clearwater Beach, it is important to prioritize safety precautions and be aware of water conditions. Understanding potential risks and following guidelines will help ensure a safe and enjoyable swimming experience.
Which Is the Best Time of the Year to Visit Santa Monica?
The best time to visit Santa Monica is during the peak season for tourism, which typically falls between June and September. This period offers warm weather, clear skies, and a vibrant beach atmosphere, making it ideal for sun seekers.
What Are Some Popular Nightlife Spots in Miami Beach?
Popular clubs and rooftop bars are plentiful in Miami Beach, making it a thriving nightlife destination. From trendy hotspots to exclusive VIP venues, there is something for everyone looking to enjoy a night out on the town.